Microsoft Band SDK Preview is available! For the details see here:
http://developer.microsoftband.com/
"The Microsoft Band SDK Preview gives developers access to the sensors available on the band, as well as the ability to create and send notifications to tiles. Enhance and extend the experience of your applications to your customers' wrists. More at http://developer.microsoftband.com/." see https://www.nuget.org/packages/Microsoft.Band/1.3.10219-preview
It´s cool that there´s a NuGet package for the Microsoft Band SDK.
Simply run the following command in the Package Manager Console:
PM> Install-Package Microsoft.Band -Pre
Microsoft Band Owners & Developers, check this out!
Thanks to Christian Nagel for the tip!
Updates:
In some forums and in Social Media developers are discussing that with the SDK-Preview only text output is possible. Need to check that out…
Georg Binder has written a short summary (in german):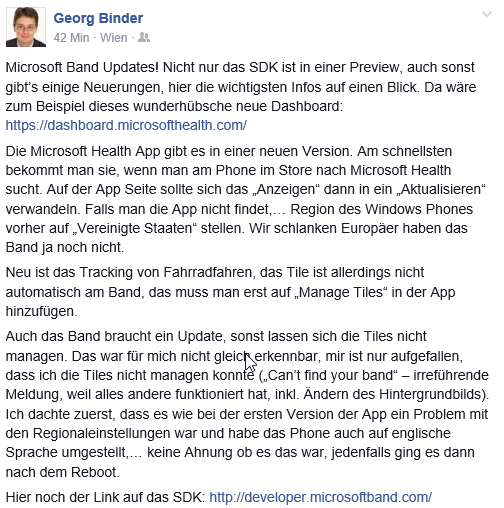 With the Update the Microsoft Band also gets a keyboard. See TheVerge:
Microsoft Band just got a major update
…time for the update…

Categories: App, Developer, English, Microsoft, Tools, Health, Hardware
Source: https://blog.atwork.at/post/Microsoft-Band-SDK-Preview-is-here