Office 365 Home is a really cool offer for up to 6 users within your family. You get the Premium versions of Word, Excel, PowerPoint, Outlook, Publisher, 1 TB OneDrive cloud storage each for each person, the subscription includes 60 minutes of free Skype calls every month to phones in over 60 countries and more, as described here. Here's how to invite your family members.
We described the process at "How to use Office 365 Home for sharing or How to get 5 times 1 TB OneDrive storage and 5 times 60 Skype minutes per month" some years ago (and also in German). Anyway, since I keep forgetting how to invite family members to my (renewed) Office 365 Home subscription, here's the documentation for that…
To activate an Office 365 Home subscription login with your MSA, open www.office.com/setup and enter your subscription product key there. Once the subscription is activated, you need to (re)invite your family members. Go to https://account.microsoft.com/services/office/sharing (this link is the important part I am always searching for) and click "Start sharing". Follow the wizard and send the invitation via email or generate a link and send that to other MSA users as in this screenshot.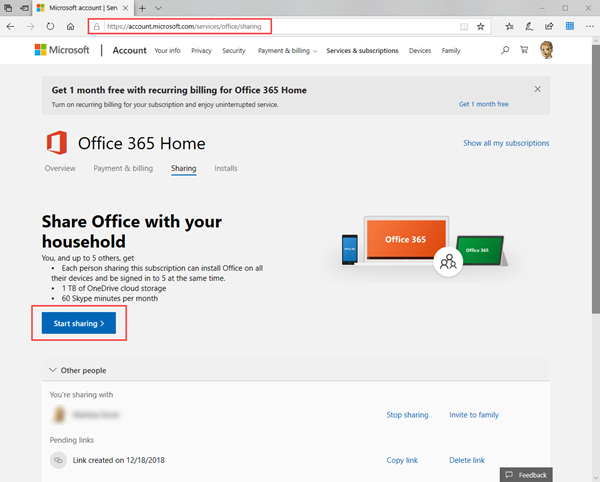 Each user should active the Skype benefits at https://account.microsoft.com/services/office/overview: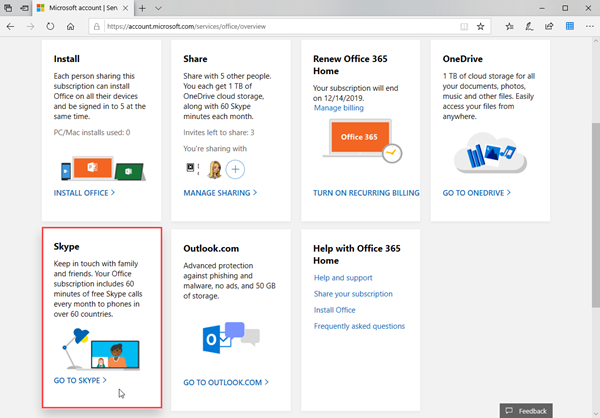 I already did that for my account, just not to forget…
I hope this quick tip helps to use all benefits of the Office 365 Home Edition.
Categories: Cloud, Microsoft, Office, Office365, Skype
Source: https://blog.atwork.at/post/Using-Office-365-Home-for-up-to-6-persons