According to the principle "Technical Summit 2016: Mehr Technologie geht nicht", this year's Technical Summit 2016 is happening next week in Darmstadt, Germany. The event lasts from Tuesday, 6th to Wednesday, 7th of December with an optional additional workshop day on Thursday, 8th. This events features prominent Microsoft speakers as Scott Guthrie, Donovan Brown and more. We from atwork are pleased to be part of this event with four sessions!
See the conference website here: Microsoft Technical Summit 2016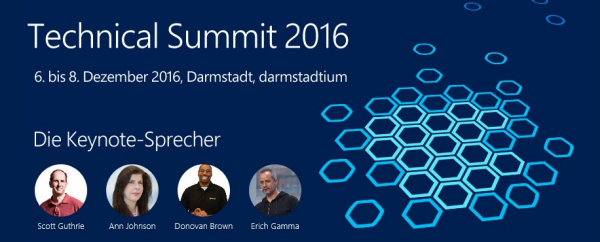 There will be sessions held in English and in German, see the agenda here.
To attend this event, follow this link: Melden Sie sich am besten noch heute für den Technical Summit 2016 an.
Our sessions on the are:
To keep informed with the Microsoft channels, you can subscribe to the cost free newsletters of MSDN Flash und TechNet Flash.
We are looking forward to see you there and having a good time at Technical Summit 2016!
Categories: General, Cloud, Developer, English, Event, Microsoft, MVP, Office365, atwork
Source: https://blog.atwork.at/post/Join-us-at-Technical-Summit-2016-in-Darmstadt