The licensing of Delegate365 is at user base for the number of users that are to be managed with Delegate365.
So if f.e. there are 10,000 users in AAD and you want to manage 2,000 in D365, then a license for 2,000 users would be sufficient. Users are all active user in Office 365. This includes users, shared mailboxes and resources (rooms or equipment mailboxes).
In order to make prices transparent also for larger packages up to 500,000 users we replaced the former static price information with an interactive price selector on the Delegate365 website.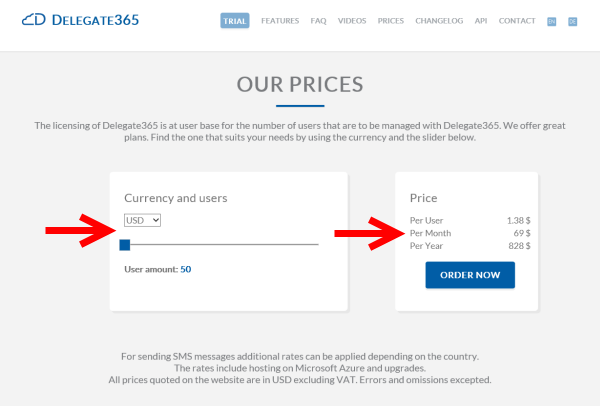 Simply select the currency and use the slider for the the number of users. The Delegate365 prices website will show the corresponding price per user/month per month and per year.
If you click the "Order now" button you will be redirected to the buying portal and the selected package will be automatically put into your cart.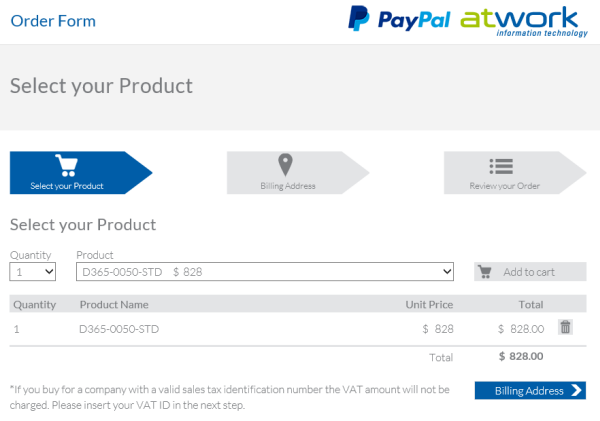 To complete an order simply follow the three easy steps of the buying process (select products, enter your billing address, review your order and perform payment). The payment will be done with PayPal or a credit card. You will receive a confirmation when the process is finished.
Alternatively you can also contact us and pay via bank transfer.
The new Delegate365 price selector makes the pricing very transparent and the ordering easy.
If you want to partner with us or if you have any questions pls. contact us.
Categories: Delegate365, English, Office365, atwork
Source: https://blog.atwork.at/post/Delegate365-Pricing-and-Ordering