Für alle IT-Pros, die sich für Microsoft System Center 2012 R2 interessieren, hier ein ganz aktueller Tipp: Ganz frisch gibt es das kostenfreie (englische) e-Book
Introducing Microsoft System Center 2012 R2
von Mitch Tulloch, Symon Perriman und dem System Center Team aus dem MSDN-Blog von MS-Press zu laden!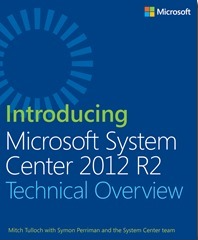 "Whether you are new to System Center or are already using it in your business, this book has something that should interest you…"
Das Buch ist derzeit als PDF-Version erhältlich. Die Mobi Version für Kindle und als ePub File werden bald folgen.
Viel Spaß!
Categories: General, Cloud, Microsoft, Windows, Azure, Blog
Source: https://blog.atwork.at/post/2013/12/17/freies-ebook-introducing-microsoft-system-center-2012-r2