The Office 365 summit toured through a lot of worldwide locations. Last week the roadshow stopped by in Amsterdam – the European event. We have been there and enjoyed the summit (for some impressions and Martina´s session see here).
In Amsterdam there have been almost 1.300 participants, about 650 IT-Pros and 150 developers. The rest of the audience have been in the sales, education and adaption tracks and from Microsoft.
We created a small statistics about the event on Twitter. See the details here:
Important: Since the hashtag #office365summit is the same, the statistics includes tweets from the last both events in Johannesburg (9 – 10th feb.) and in Amsterdam (12 – 13th feb.).
In Twitter Amsterdam is on top with 80%
In the graphics by day you can see that on the first day in Amsterdam there were the most tweets (705), followed by Amsterdam day two (542). In Johannesburg there were 180 tweets on day one and 108 tweets on day two.

So much more attendees (and social media actions) in Amsterdam.
On the two conference days in Amsterdam there were 1247 tweets, in Johannesburg 288 tweets. So we can say that the Johannesburg event (18%) is about one-fifth of the following data and Amsterdam is the rest with about four-fifths (79%).
Overall – the last week
In the last week (since 8th of february) there have been about 1.600 tweets sent by 365 users.
38% were retweets.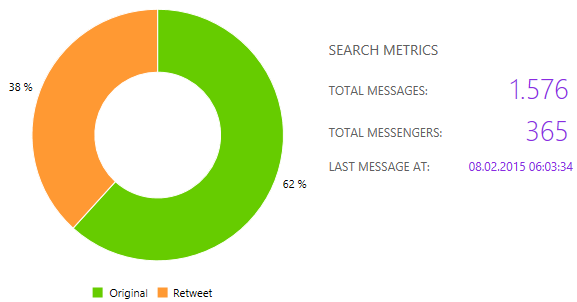 With the assumption of Amsterdam being about 80%, there have been about 1.250 tweets and about 290 users active in Amsterdam.
Clients used
Most devices used for sending tweets have been iPhones (39%), followed by "Others" (29% – this includes other clients as on PCs), Windows Phone (21%) and Android (11%).
Top Twitter users
The most active Twitter users have been: MS PartnerNetwork ZA, The Scarfed One, Peter Copman, Mattias Kressmark and Patrick Guimonet.
The pie graphics also shows the top 10 users in one chart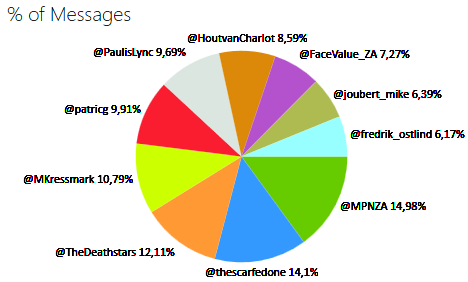 There have been about 5.000 twitter users reached by these top 10 users.
As far as we have seen almost all of the mentions of #office365summit have been very positive (see also some feedback of Martina´s session here).
Had a good time in Amsterdam at the Office 365 summit!

Categories: English, Event, Microsoft, Office365, Social
Source: https://blog.atwork.at/post/Hashtag-office365summit-on-Twitter