After the announcement on May 4th at the Future of SharePoint event, now the first public developer preview of the SharePoint Framework is available.
The SharePoint Framework enables developers to build client-side web parts using "modern script development tools" – this means Javascript and related web components and tools. The new SharePoint Workbench allows developers to test and deploy client-side web even offline!
Read the details in the Office Dev Center in SharePoint Framework Developer Preview Release!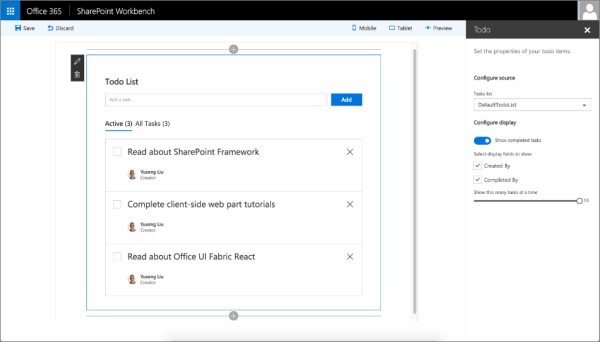 I personally like the new SharePoint Workbench very much… (screenshot from the original blogpost)

Find the documentation of the Preview Release on https://github.com/SharePoint/sp-dev-docs/wiki.
Feedback can be provided at UserVoice, and the related GitHub repos.
Check it out and try it out!
PS: See the (german) blogpost Einführung in das neue SharePoint Framework for an overview at a glance as well.
Categories: App, Cloud, Developer, English, Microsoft, Javascript, Office365, SharePoint, TypeScript
Source: https://blog.atwork.at/post/SharePoint-Framework-Developer-Preview-Release-is-here