We from atwork will are looking forward to see you at SharePoint Conference North America 2019 that will take place in May 2019 in Fabulous Las Vegas. Check it out now and save $50 off your registration!
SharePoint Conference North America 2019 will take place in the MGM Grand in Las Vegas, Nevada from May, 21st to 23rd, 2019. Add #SPC19 to your calendar! See the details at sharepointna.com.
"The SharePoint conference returns to Las Vegas: the world's biggest and most comprehensive event empowering you to achieve more in the modern workplace with Microsoft 365."
The Microsoft SharePoint product group are co-hosts of SPC19 and we will see Jeff Teper, Dan Holme, Bill Baer, Navjot Virk, Vidya Srinivasan, Adam Harmetz, Omar Shahine, Naomi Moneypenny, Vesa Juvonen and many more. Also, there's an amazing line up of international speakers from the Microsoft MVP community. So, you can expect the latest technologies and news around Microsoft 365 and SharePoint. If you plan to register, use code POHL to save 50$ off your registration or click here: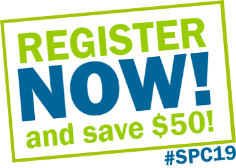 We from atwork will be there and deliver a workshop and some Breakout sessions. CU in Fabulous Las Vegas in May!
Categories: Azure, Cloud, Developer, English, Event, Microsoft, MVP, Office, Office365, PowerApps, Flow, Governance, Graph, SharePoint, Security, atwork