This week European SharePoint Conference #espc13 took place in Copenhagen, Denmark. ESPC is the largest SharePoint Conference in Europe, with more than 1.400 people attendees. The conference was located in Bella Center, Scandinavia´s biggest exhibition and conference centre.
For most attendees it was very convenient to stay in Bella Sky Comwell Hotel, a brand new design hotel which is part of the conference complex. Bella Center is about 10 minutes away from CPH airport and also about 10 to 15 minutes away from the city of Copenhagen, connected with the Metro.

Image source: bellaskycomwell.dk
The event
ESPC event was sponsored by a lot of powerful partners, well known in the SharePoint community.
It was great to have so many well known international speakers at the conference, a lot of SharePoint Architects, MCM´s, MVP´s and other experts held more than 120 sessions. The focus was mainly on SharePoint 2013.

At ESPC there have been a lot of exciting topics, from technics, BI, Yammer and Social, Search, Cloud, Office 365, WCM, Branding, Workflow, Project, Visio, Visual Studio, HTML 5, Java Script, Mobile, Migration and Upgrade, Architecture, Infrastructure and Office Web Apps to social media with interesting questions like Microsoft's Copenhagen Question: Will 2013 Be the Year for Enterprise Social in Europe?
Sessions by atwork
By our company, Martina Grom (MVP Office 365, @magrom), held two sessions about the new Office 365 and Office 365 hybrid scenarios. See Martina´s slides on slideshare.com:
As far as we´ve seen there were three speakers from Austria at the conference:
Timo Heidschuster (Solution Architect at Microsoft Austria), Andreas Aschauer (Trainer & Consultant at ppedv AG and Vienna University of Economics and Business) – he stepped in and held a session about SingalR and SharePoint - and Martina Grom (MVP Office 365, CEO of atwork).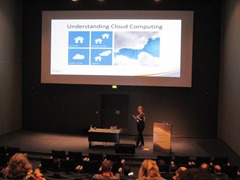 Martina Grom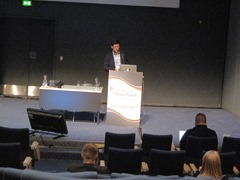 Andreas Aschauer
Top European SharePoint Influencers
In the last weeks harmon.ie started an online voting on the Top European SharePoint Influencers in Social Media. Everybody could join and vote for his favorite SharePoint influencer. Here are the final results, which were presented at the Conference Awards Dinner on wednesday.
It was really a surprise – Martina was voted as the most influencing SharePoint personality in Austria!
We also found a lot of our friends and colleagues on both lists, like Adis Jugo (Bosnia-Herzegovina), Toni Frankola (Croatia), Samuel Zürcher (Switzerland), Agnes Molnar (Hungary), Christian Glessner (Germany), Michael Greth (Germany), Fabian Moritz (Germany), Wictor Wilén (Sweden), Tobias Zimmergreen (Sweden) and many more well know european SharePoint experts. Congrats!
Well, this voting of course doesn´t mean there aren´t a lot more SharePoint experts. The organizers just made a snapshots of the most visible personalities within the SharePoint communities in Europe. Anyway, we´re very proud that Martina makes good community work and she received this award.
Around the conference
Also check out RunningSharePoint Man website. Florian Grasl (@RunningShareP) was running from the south of Vienna to ESPC in Copenhagen – and had some SharePoint meetings on his way -, which means more than 1000 kilometers in 20 days – between 50 and 70 kilometers per day! Although Florian had some problems with one leg starting somewhere around Berlin, he managed it perfectly timed to the keynote. Wow, what a performance!
Networking
We had a great time to meet friends and new people from around the world again as well as enjoying the international SharePoint community. We had discussions and were hanging around, speaking about our passion, planning future community events and everything related to it. And of course we had a lot of fun together!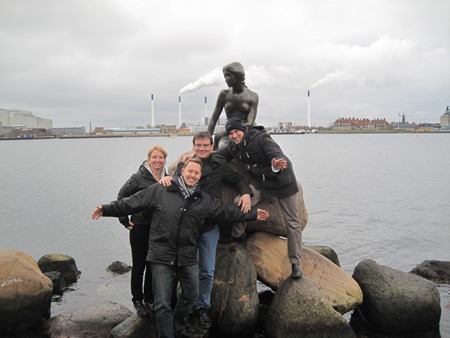 @magrom, @adisjugo, @sharepointszu and @atwork at the Little Mermaid.
See some other blog posts about #espc13:
So, ESPC was a great event, meeting again a lot of community friends. Looking forward to the next (SharePoint) events!
Categories: General, atwork, Cloud, Developer, English, Event, Impressionen, Microsoft, SharePoint, Social
Source: https://blog.atwork.at/post/Recap-of-European-SharePoint-Conference-espc13