Last week, the SharePoint Conference returned to Las Vegas! #SPC19 took place from May 21 - 23, 2019 at the brand-new MGM Grand conference center, Las Vegas, Nevada. The event informed about the latest news in SharePoint, OneDrive, Yammer, Microsoft 365 and Azure. We from atwork were proud to deliver a full day workshop about Security and Governance in Microsoft 365 and some sessions. See some impressions of SPC19 here!
As in the last year, at the first "reborn" SharePoint Conference in Vegas, SPC19 was organized by SharePoint Conference with Microsoft as a Diamond sponsor. Jeff Teper, Corporate Microsoft Vice President Office 365, SharePoint, OneDrive and Stream, and his team delivered the SPC keynote about "The intelligent workplace". You can watch it on demand at the SharePoint Virtual Summit site at aka.ms/spc/summit.
SharePoint Virtual Summit - Catch up on all of the news and announcements from the 2019 SharePoint Virtual Summit.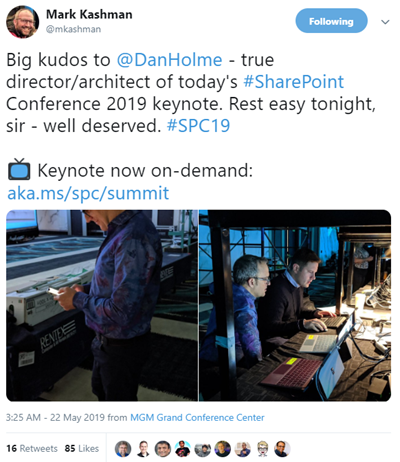 Many Microsoft Program Managers delivered sessions about the latest news and features of their products, such as SharePoint, OneDrive, Yammer and Microsoft 365, so attendees got all information first-hand. See the full schedule at sessions. As in the last year, we from atwork were proud to be part of #SPC19 and we delivered these sessions:
See some snapshots from around the conference here, and we enjoyed the Gin Blossoms concert at SPC!
Following the Twitter hashtag #SPC19, our friends from TyGraph created (as in the previous years) an interactive Power BI dashboard to visualize the event feedback. See it at link.tygraph.com/SPC19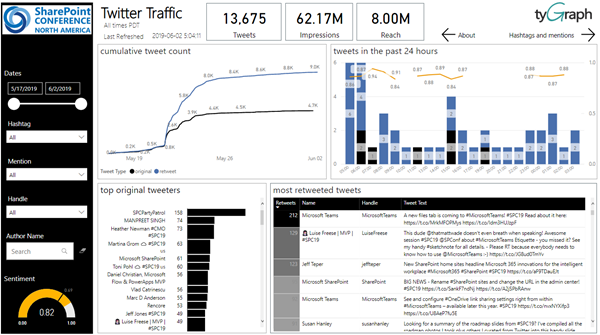 The most used hashtags at #SPC19 were #Microsoft, #MicrosoftTeams, #Office365 and #Vegas and Twitter user names as @jeffteper and @vesajuvonen.
It was great to be part of the #SPC19 conference!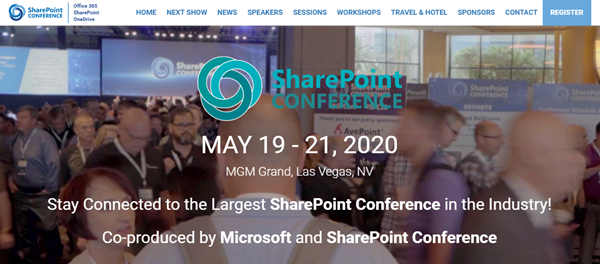 #SPC20 is already announced and will take place May 19 - 21, 2020, again in MGM Grand, Las Vegas.
The registration opens on June 3rd. Save the date and CU there!
Categories: Cloud, Azure, Developer, English, Event, Microsoft, MVP, SharePoint, Office, Office365, Microsoft365, Yammer, atwork
Source: https://blog.atwork.at/post/SharePoint-Conference-2019