Recently I was part in a poll about retiring an Exchange Distribution list (DL) and move content to a Yammer group. Not surprisingly there are a lot of pro's and con's for and against it. From the comments why to stay in an Exchange DL or move forward to Yammer there were some interesting arguments and viewpoints. Today I will go through some of them and explain how you can handle that in either technology.
First of all – Exchange DL's and Yammer groups are both just tools that help us doing stuff, sharing opinions and be part of something. Hopefully this post will help Exchange DL users find their way in moving to Yammer.
Some of the arguments staying in a DL within the survey results were
There is no offline access / offline archive to Yammer
It is easier to follow a DL thread than using the browser
Yammer does not have a good notifier
We cannot attach pictures and other data like in a classical E-Mail message
It's hard to find something or stay up to date
Too much noise in Yammer
Only single account support in Yammer
Too much noise in Yammer – so tranquilize it
When starting with Yammer users sign up, invite friends, join groups and fill out their profile. For most users that's it. After a while users discovers noise with E-Mail notifications they receive for a lot of things in their network. This is one of the central parts: change your notification settings to get the information you want and not "everything". This can be done very easily: Login to Yammer, switch to your profile and move to notifications. Select or deselect the options, you want.
You can also choose if you want to have the activity digest daily or weekly.
I set this to weekly for most of the networks, in networks who are important to me I'll set that to daily.
Treat Yammer as your new Distribution List
For those who use Outlook as their day-to-day tool with which they are comfortable with they can still use it. There is no need to use Yammer from the Browser or one of the Yammer Apps.
If you want to follow up to conversations in a selected group simply subscribe to it in your Yammer profile settings. As before, under Notifications you'll find an option to subscribe to your preferred group. As soon as you do that you will get any conversation per E-Mail which was started in that group.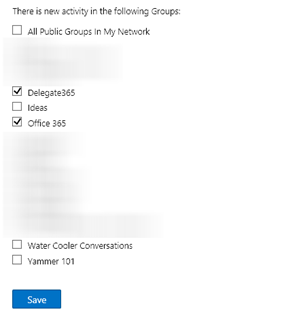 The good part of that is – you are now able to archive that conversations offline and you have offline access to it. You can search within Outlook and use it like you did before.
Each Yammer group has an E-Mail address
You can post to a Yammer group via E-Mail. To find out the E-Mail address simply go to the group, navigate to Access Options and click Post to this group by email. The email address of the Yammer group is usually the name of the group.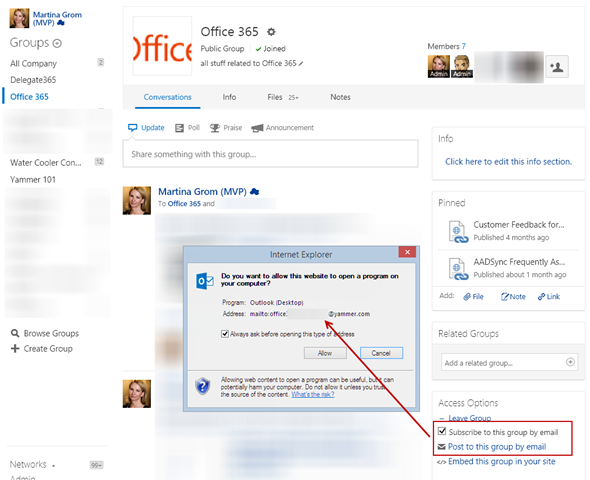 You can include attachments in your E-Mail, those will be posted as well.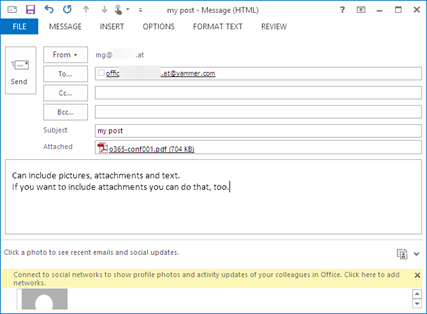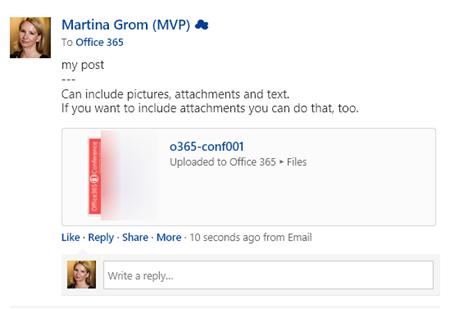 Reply to a Yammer thread via E-Mail
If you want to reply to a Yammer thread you can also do that via E-Mail – simply reply to the E-Mail. If you do not want to include the whole thread in your reply make sure that you end your answer with "--" and everything below those two Hyphens will not be included in your answer.
Tipp: if you use pictures in your E-Mail signature be aware that Yammer treats them like attachments.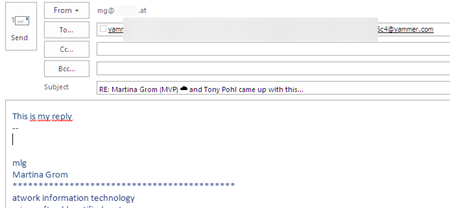 Search, filter and organize information relevant for you
If you are not using offline search through Outlook you can search for information through the Yammer search. Yammer looks for your search term within groups, discussions, people, notes, tags and so on.
Use Topics
Try to use topics in your posts. Topics help you organize or add information to posts. You can also add topics to posts which are already posted to the network.
You can follow topics in your Yammer Inbox.

Look into the "More" Link
There are a lot of options available in the "more" section of each post. If you want to follow a thread you are not part of you can follow it here. Or you can delete one of your posts if you want to. Or you send a thread to you via E-Mail. If you bookmark a conversation you find it under your profile and you are able to read it later.

Don't get lost in threads use your Yammer Inbox
Especially in large networks it's very easy to spend a lot of time in reading through threads, groups or just browsing around. Everything is interesting but this is also time consuming and many people say they get lost in all the interesting topics in Yammer.
To avoid that I use it that way:
Everything what's important to me is in my Yammer Inbox and I need to look at that.
In the morning I use the overall Yammer thread as my daily company newspaper – for 30 Minutes.
You cannot use multiple accounts within Yammer
You cannot use more than one identity within Yammer at the same time. My solution for that is simple: I use my main Yammer account in all Yammer Networks. I have a second one – I use that in my secondary Browser. I can live with that because I am used to manage a lot of identities within Azure AD and Office 365.
Don't fight it – use it
I hope my tips how to use Yammer help users who are …unsure if they want to use Yammer or not!
Yammer is helpful in sharing and connecting to useful information within your company or within external Networks. You may like the User Interface or not, as we do it with all new tools we discover. But the main point around Yammer is not the UI, it's the value. And contributing to a network, ask questions and sharing information are all awesome ways to get value out of the network.
Start using it, be awesome and smart and you will find your value out of it.
Categories: Cloud, Office365, Yammer, English, Social, atwork
Source: https://blog.atwork.at/post/Comparing-Yammer-to-Exchange-Distribution-lists