In some tenants, sometimes reports appear blank. This can happen when reports are obfuscated in the Microsoft 365 admin center. See more here.
Reports can be scheduled and downloaded in the Reports menu. When the report generation is completed, they show up in the list, as here.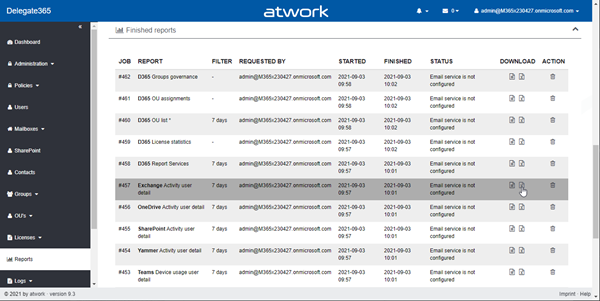 When the report is open and "no data available" is displayed (although you see users and groups in the Delegate365 pages)…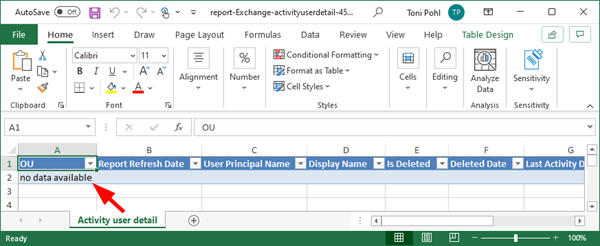 …the reason will likely be that Microsoft 365 obfuscates user, group and site data in the report settings. In this case, as administrator, check as Admin Center / Settings / Org Settings / Reports settings (Microsoft 365 admin center), as here. Note that in new tenants this feature can be set to On by default.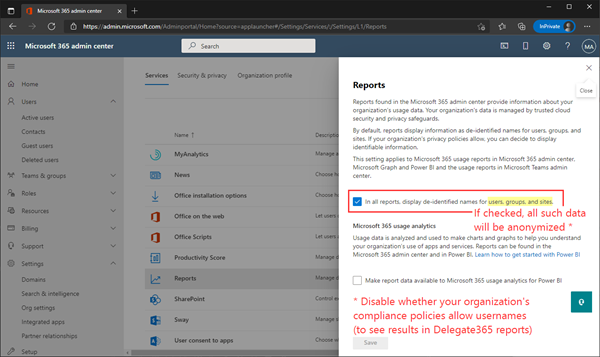 While it may be understandable to activate this "report obfuscation" feature for reasons of security and compliance, it results in Delegate365 receiving no data and displaying empty reports when users, groups or SharePoint sites are included. M365 then only delivers Id´s that cannot be mapped to a user that is assigned to an OU in Delegate365.
If your organization's compliance guidelines allow, disable this report setting in your M365 tenant to view report data.
As a result, data will appear again in Delegeate365 in newly created reports. You can find a list and samples of all available reports in Delegate365 here.
Categories: Delegate365, English, Microsoft, Microsoft365, Office365, Tools, atwork
Source: https://blog.atwork.at/post/Delegate365-Empty-Reports