Man las und liest ja einiges zum Thema "Wann kommt Windows 7 RTM". Die Gerüchte in Blogs, Foren und social networks drehen sich um das Veröffentlichungsdatum, angebliche Leaks bis hin zum Ratespiel, welche Build-Nummer nun denn jetzt die RTM-Version sei (die Spekulationen gehen zur Zeit von 7600.* bis 7700.*)…
Microsoft hält sich (noch) zurück, aber ich empfehle allen Neugierigen den Artikel "Update on Windows 7 RTM" von Brandon LeBlanc im windowsteamblog. Brandon schreibt – wohl zu Recht, denn er sollte es wissen: "…As always, don't believe everything that you read on the Internet - except this post ;-)…"
Und die nach wie vor aktuelle, offizielle Aussage lautet: "…As we've said all along, we will RTM Windows 7 when it's ready. As previously stated, we expect Windows 7 to RTM in the 2nd half of July…".
Hier die Zusammenfassung der Termine aus dem Artikel:
MSDN & TechNet Subscribers: Subscribers will be able to download the final version of Windows 7 a few weeks after we announce RTM.
Volume License (VL) Customers: As announced today by Bill Veghte during his WPC09 keynote, Windows 7 will be available to Volume License customers on September 1st.
Consumers, Enthusiasts, & Beta Testers (Everyone else): The retail version of Windows 7 will be available in stores October 22nd. If you pre-ordered Windows 7, it should be delivered sometime around the October 22nd timeframe (depends on the retailer).
On New PCs: OEMs are expected to start shipping new PCs with Windows 7 pre-installed on them around October 22nd.
Übrigens: Die ersten 77, die sich über diesen Link melden, bekommen das Buch "Windows 7 Die Neuerungen im Überblick" – rasch melden, die Stückzahl ist begrenzt!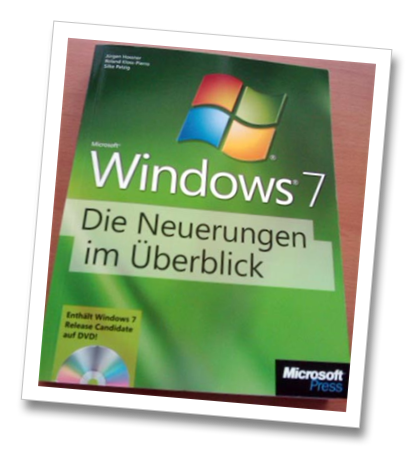 Beitrag von Toni Pohl
Categories: Microsoft, Windows
Source: https://blog.atwork.at/post/Info-zum-Ratespiel-e2809cWann-kommt-Windows-7-RTMe2809d-und-77-gratis-Windos-7-Bucher