There are already many reviews about and around the Microsoft Band. I've mine now for about 6 weeks and I want to share my personal experiences and also some things I discovered so far.
How it started
Everything started with TechEd Europe in Barcelona. We shared an AirBnB apartment with some of my favorite Microsoft geeks and had a lot of fun during the week. Every morning, before the conference starts we had breakfast together and informed each other about the latest news in technology. It looked like that: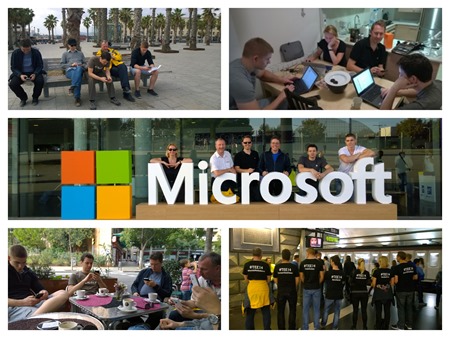 On Thursday, 30th October 2014 morning the Microsoft Band was launched. Totally surprising for everybody – including us on TechEd. Immediately the conversation starts…. how to get one. One of my friends in Vienna ordered his band online and let it deliver to my hotel (because I was nearly on my way to annual MVP summit in Redmond) while two of my cohabitants thought of the right size. They checked that the whole day – till the Microsoft Band was sold out. So no Bands for them (at least at that time). At that time I did not even think about having one for my own – but going with a fold this changed during the next couple of days.
Preordering…
The week after TechEd we flew to Seattle for the yearly MVP summit. This is one of my favorite conferences and meetings of the year because it's like a big family reunion – meeting friends, learning new stuff and having lots of fun. Those MVP's who flew in early (on November 1st or even earlier) were lucky enough to get one Band in one of the two Microsoft stores in Seattle Area (in Seattle University Village and Bellevue). We arrived on the 2nd – and could only preorder them in the store. Even I was still sure that I did not want one we moved to the Bellevue store and I did a preorder – just in case – of a large and a medium one. Because the Band is only available in good old USA we had many requests of friends bringing one.
This was also the first time I tried one of the Bands – and I really did not like it very much because it felt like a bulky handcuff at the first try – even when I tried it the recommended way: display on the inner side of my arm. Paul Thurrott also quotes: "MSFT Band is a compley and bulky device and it´s not for everyone."
To make a long story short: the preorder did not arrive in the week we were in Bellevue. A week later we checked for bands in a Microsoft store in Los Angeles but they were sold out, too.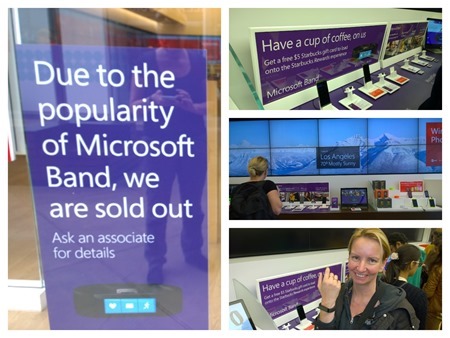 Returning home I received an E-Mail from the store that bands arrived. Gladly a friend of us was in Redmond that time and promised to pick them up. So by end of November I am a band owner – and user. During the last weeks I had some experiences with using it, but lets start with the technology.
Microsoft Band it's technology and it's history
The Band is a little wonder of technology. Build-in GPS, 24-hour heart rate monitoring, UV monitor, counting steps, tracks your run's and workouts, calorie tracking, sleep tracking are on the health side. Text messaging, calls, calendar, E-Mail, Watch mode, Social media like Facebook and Twitter, Cortana, weather, finance, timer & stopwatch, do-not disturb mode are on the productivity side.

(Photocredit: Microsoft)
The band connects to your Windows Phone or Android or iPhone. There is even a Windows (desktop) App which is designed to sync faster and getting updates for your Band (but nothing more).
The Band sync's to Azure – to a new platform called Microsoft Health. The idea behind Microsoft Health is simple: due to the fact that wearable devices are a trend, Microsoft Health provides a platform where that data can be stored, combined and analyzed. Microsoft Health unites data from different health and fitness devices and services in a single, secure location. Currently it gives me insights around my recommended recovery time and the amount of restful vs. restless sleep. In the future Microsoft Health will provide a SDK for developers, API's and cloud storage.
The Microsoft Band and Microsoft Health beginnings were in 2010 and out of the XBox team. While reading the history of developing the Band it sounds for me (as I am somehow in the same boat) that a couple of mid-40's acknowledged that staying fit helps them and tracking their progress is fun so they decided to invent the band.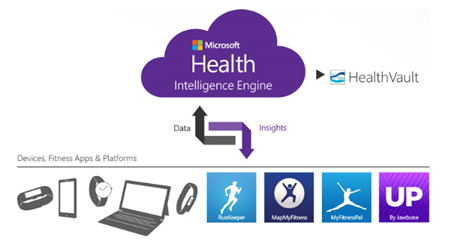 My first days with the Band
Setting up the Band was really easy. Charge it – connect it, install the App, sync it. All Apps are only available in the corresponding US stores. I gave up my localization a long time ago (because all the cool stuff happens first on US based devices) so there was no need to change anything on my Lumia 925. If you have another region it's sufficient to change your region to US to get access to the Windows Phone App. For the Google Play Store you can do the same (and I was told Android Users know how to get the Apps). For iTunes you need to change the region. As I wanted to install the App on my iPad as well I did the following:
Open the iTunes App store
Open Apple ID at the end of the page
Show Apple ID
Click on Country/Region
Change it to US
If you don't have an US credit card select "no payment options"
Download the App
Switch back to your preferred region
I used to wear a watch my whole life (yes, I am that old). And I really like my Citizen Lady Scuba Diving watch with solar cells in it. My watch arm is my left arm so I decided to try the Band on my right arm. But that did not work for me. It felt strange. So I tried it on my left arm with the display on the upper side – like my former watch – and that works. Sadly my watch is now at home waiting for me and I really regret that I am not wearing it anymore. But wearing the Band on my left arm like a watch feels natural for me. I did not turn on permanent watch mode and I slowly get used to press the Power Button to see the actual time.
Protect it
There´s a self-adhesive screen protector delivered with the Band (10$ worth). It´s a little hard to put it on the right position for the first time…mine has a fingerprint on it because I removed and added it several times. Men: read the manual.
Apps
After the first day I changed the default settings of my band. I am a person who lives without notifications – those popping up reminders on my screen make me nervous and do not help me concentrate. So as I switch the notifications off on my Computer I did the same with my Band. With more than 200 E-Mails per day I could not imagine how my arm is shaking the whole day notifying me about this and that. There is only one person who can break through that and I am curious each time I get a notification. What I recognized is that I either receive less E-Mails from Toni or that the sync does only work when I am close to my phone.
It's quite cool when you open Cortana by pressing the Action Button on your Band and tell her to send a SMS and it just works. Looks a little strange talking to your watch but hey – we are living in a world where people are sitting alone in the car and talking.

There are already some third party apps available for the Band: Band Sensor Monitor and Pimp my Band. Band Sensor Monitor shows the embedded sensors in real time. My impression of this app is that it works only with accurate regional settings, measurement of my skin temperature does not work and I get connection errors very often. Pimp my Band lets you change the Background of your Band and let it personalize a little bit.

If you want to design your own background, the proper size is 310x102 pixels and there is already a forum where users share their backgrounds.
The Windows App helps you synchronize your Band and shows the Serial number and let you change some of the profile settings. I hope there will be a good website soon where you can see all of your data also on your PC instead of your mobile device.
The Size
Everyone tells me that it's really important that the Band has the right size because the sensors need to be connected to your skin to work properly. That's true but it's not so strict as many people see it. My wrist is exactly between S and M – both Bands fit. The S is more closer to my skin but the M feels more comfortable and I discovered that I wear it like my watch: comfortable and I change the wideness during the day by opening the clasp and close it at another position.
I did not discover any problems in measurements because of that. So please believe me you men in my surroundings: if size M fits, a L will fit as well. There is no reason to have it really close around your wrist. Try it the comfortable way and it will work as well.
Pairing
In the beginning I was wondering if it's possible to have the data on more than one Mobile Device – in my case on the Windows Phone and on the iPad. I heard different opinions and tried it by myself and it works through the cloud magic: all you need to do is sign-in with your Microsoft account – and all data are on both devices. There is no need to connect both devices via Bluetooth to your Band.
Battery Life
The Band is designed to be a 24 hour device. I read a lot about it's lousy battery life in advance. My personal experience is that I charge the Band each day while I take a shower in the morning and that 20-30 minutes charging are enough. I do not have any problems with battery life since then, it works very well this way.
Sleep Tracking
I laughed a lot about the manual that you need to turn on sleep mode to get sleep tracking started. It was not because of the fact that you need to turn the mode on – it was because of the funny description in the manual: "If you want to start your sleep session" –> everything in our daily life is now separated into "sessions": work session, eat session, workout session, sleep session. I know that in future releases the band will track that automatically, which will be a nice feature.
What I learned from my "sleep sessions" is that 5-6 hours of sleep are normally enough for me, that it takes me around 7 minutes to fall asleep and that my sleep efficiency is between 93% to 97%. Do I need that info? Not necessarily – but spending time in bed any longer brings no more value to me.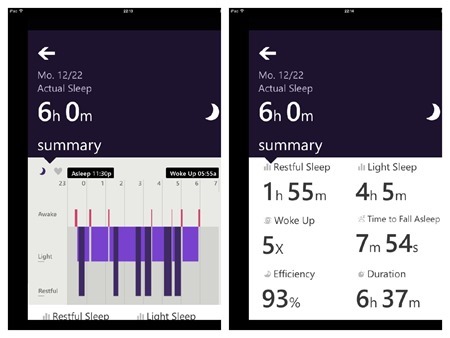 The disappointing thing is that on my Windows phone the Windows Phone App crashes everytime I want to check the sleep session – I am waiting for a fix since some time now -and the Update from January, 7th 2015 fixed that! I suppose this is because I haven't set my regional format to US (I know how developers and software testers work) but I never tried to change that, I am stuck to a 24 hour time format and my kilometers, centimeters and kilograms.
Needless to say that it works on my iPad (with the iPhone App installed) – that's the new Microsoft open world.
Steps and Running
The default step goal is 5.000. I set that to 10.000 according to the most fitness tips I know. Fact is that I cannot reach that goal with my current job behavior: go to the office, sit in the office, walk around while on a phone call, go home from the office. Those "normal" days count between 3.000 to 5.000 steps. To achieve my goal I need to do a workout (or walk more). Three times a week I go to the gym for a 5K run on a treadmill. 5k counts approximately 6.000-7.000 steps. With that, my goal of 10.000 steps are met.
While on the treadmill I change my band and wear it with the display inside. Interesting about running on a treadmill compared to running outside is the fact that the measurement is not as exact as expected: either the Band is too fast or too slow – sometimes its around 50 meters less or 50 meters more. In average its ok but it looks like a tricky thing to have an accurate measurement while standing on a treadmill. One day during my workout I did not move my arms very much while running (kept them very close to my body) and that lets the Band "loose" 500m.
Also seeing the regeneration time is useful – when we went for a run together I learned that my recovery time is much longer than for the others.
The band works better outside: I used Runtastic before I started tracking it with the Band – when I track my run both with Runtastic and the Band they are nearly the same. For run's outside I switch on the GPS mode to have a nice map of my run in the Health App.
Conclusion
The Microsoft Band is a hot bundle of technology and shows us where the journey of wearable devices can start. I really like the Band and its useful in tracking my run's and activities. I learned things about myself I did not know before and it's useful wearing it. I really hope that the availability of the Band will be better in the future and hopefully we will see an even smaller device in the future. Well done, Microsoft.
Disclaimer: I bought the Band with my own money. No present. Only Credit Card involved.
Useful Links
Categories: Blog, Design, English, Hardware, Impressionen, Microsoft, Health, Mobile
Source: https://blog.atwork.at/post/My-experiences-with-the-Microsoft-Band