Yeah, they did it again! The team around Branka Obuljen Štritof, Adis Jugo, Toni Frankola and Nenad Trajkovski organized the fourth SPC Adriatics Conference coming next week, from May 31st to June 1st 2016. The event will be held in Zagreb, Croatia, again. What's so special about this conference? Well, read it here!
SPC Adriatics started four years ago out of the idea of the Microsoft MVPs Adis, Toni and Nenad to organize a SharePoint and Project conference for the Adriatic region…

So they accomplished three SPC Adriatics events already (in 2012, 2013, 2014). Last year they skipped for the wait of SharePoint 2016 that was announced this May by Microsoft (The Future of SharePoint). The conference turned quickly from a more or less regional event around the region into a well known international conference (all sessions are in English). Community is an important part of SPC Adriatics as well.
The team made the conferences exceptional. Whoever was in the Balkan region knows, that people, their hospitality, culture and food is awesome. All speakers are treated like family and we had a lot of fun (and food, did I mention this?) at our jointly events ("probably the best SharePoint conference in the world").

Well, of course that's one part of a conference. The second part is to transfer knowledge and to have exciting sessions. And, man, look at the agenda for this year's SPC Adriatics: It's simply the Who-is-Who of the SharePoint scene! Take a look in the Speakers-List. All of the speakers come from around the planet, from the USA to South Africa, New Zealand and of course from all over Europe, from Portugal up to Ireland, the UK and Finland to join this conference. Martina and I are proud to be part of this group!
There's a great agenda at SPC Adriatics, see it here: www.spcadriatics.com/agenda. The event starts with a keynote titled "SharePoint and Office 365 State of Nation: Keynote Panel" delivered by Mike Fitzmaurice, Spencer Harbar, Toni Frankola and Vesa Juvonen, followed by, well a lot, around 60 sessions in two days!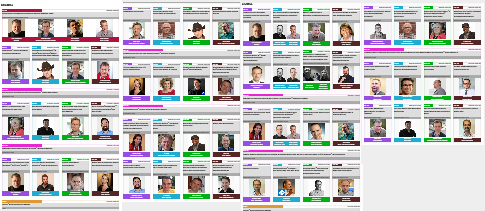 So, we are looking forward to SPC Adriatics Nr. 4, seeing a lot of our community friends there and we will have a blast! Again!
Thx Adis, Toni and Nenad for having this great event!
Categories: General, English, Event, Microsoft, MVP, atwork, SharePoint, Office365, Exchange
Source: https://blog.atwork.at/post/The-Legend-is-back-SPC-Adriatics-Number-4