Global Azure is an annual event that brings together developers, IT professionals, and cloud enthusiasts from all around the world. Taking place as a a free, virtual event on Friday 12th May 2023, this year's event promises to be bigger and better than ever, with a wide range of sessions for all skill levels. As in previous years, we are proud to be part of Global Azure Austria.
If you're looking to learn more about the latest Azure technologies, network with other Azure enthusiasts, or simply brush up on your skills, then Global Azure is the perfect event for you. With a variety of sessions to choose from, you'll be able to tailor your experience to your specific interests and needs in this virtual event on Friday, May 12, 2023. So if you're looking to stay up-to-date with the latest Azure technologies and trends, expand your knowledge and skills, and connect with other individuals working with Azure , then join us at Global Azure. We look forward to seeing you there! The Austrian edition of Global Azure 2023 provided by the Coding Club Linz. See the details at GlobalAzure.at.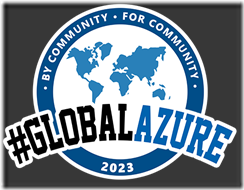 See a short promotional video at Global Azure Austria Trailer Video.
This year, you can participate virtually via the www.gather.town platform. Follow the session link and click on the "Streaming" button.
We at atwork are happy to be a sponsor of the event and to present two sessions:
AI for Good sign language detection research project
Friday, May 12, 2023 11:00 - 11:45 CEST, Toni Pohl, Peter Hödl, Marco Marthe

The session includes an Introduction to Sign Language Recognition using at the Azure platform is aimed at introducing attendees to the basics of sign language recognition using various Machine Learning techniques. The session will cover topics such as the challenges of sign language recognition, the data and tools required to develop a sign language recognition model, and how to train and evaluate the model. Attendees will also have the opportunity to see a demo of a sign language recognition model in action. This session is ideal for anyone interested in the field of artificial intelligence and machine learning, and particularly those interested in the use of AI to support people with disabilities.
Identity Governance for Microsoft Azure
Friday, May 12, 2023 12:00 - 12:45 CEST, Martina Grom

The session titled "Identity Governance in Azure Active Directory" at Global Azure is aimed at providing attendees with an understanding of identity governance and its importance in maintaining a secure and compliant environment. The session will cover topics such as the different components of Azure Active Directory, the role of identity governance in Azure AD, and best practices for implementing and managing identity governance policies in Azure AD. The session will also explore real-world scenarios and use cases where identity governance plays a critical role in ensuring security and compliance. This session is ideal for IT professionals, security experts, and anyone interested in learning more about identity governance in the context of Azure AD.
Don't miss out on the opportunity to join us for the free virtual GlobalAzure event! This is your chance to learn from top Azure experts, network with enthusiasts, and gain valuable insights into Azure technologies and insights. Whether you're new to Azure or an experienced professional, there's something for everyone at Global Azure! So, mark your calendar and join us for this exciting event.
We look forward to seeing you at Global Azure Austria!
Categories: Azure, Developer, English, Governance, Microsoft, Microsoft365, Security, Serverless, cybersecurity, atwork, Cloud, Cognitive Services, Event
Source: https://blog.atwork.at/post/Join-us-at-Global-Azure-Austria-2023