We look forward to participating in the Global Azure Austria event again! The event is part of the event series Global Azure 2021. As in the past years, the Austrian edition of Global Azure 2021 is provided by the Coding Club Linz. Like last year, Global Azure 2021 will be a virtual event again and deliver over 30 sessions to your home on April 16th. Join us!
Global Azure is organized by the Azure community for the community. The annual series of events offers meetings and exchanges over 3 days. The Azure communities around the world are organizing localized live streams for everyone around the world to join and learn about Azure from the best-in-class community leaders.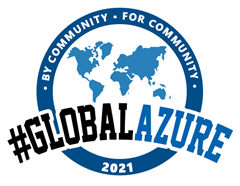 Check out the details and the session catalog at globalazure.at. You can watch all sessions on Friday, April 16, 2021, on the YouTube channel of Coding Club Linz, ask questions in comments, and join live discussions on Discord. Follow the hashtag #GlobalAzure.
See all sessions here. From atwork, we will deliver the following sessions:
Join us at globalazure.at and have fun!
Categories: Azure, English, Event, Microsoft, MVP, atwork