Today is Microsoft Ignite's last conference day. Microsoft largest IT-conference MSIgnite took place from 4t to 8th of May in Chicagos's McCormick center, some miles south of downtown. Martina and I attended BUILD conference too, so we have a direct comparison of the two large Microsoft conferences this year.
The size was impressive
Five conference days are exhausting. Well, actually this Friday is just half a conference day, because it ended after noon and the expo hall was closed down yesterday. But let's start with the beginning.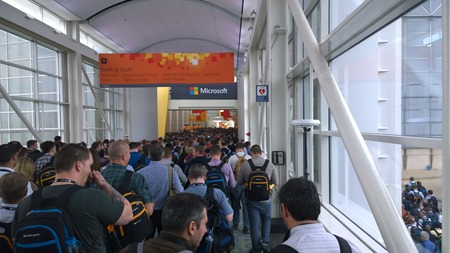 There have been 23.000 attendees at #MSIgnite and as far as I heard this was the largest conference Microsoft had ever held. It's hard to imagine that so many people can be served, but in my opinion this worked well. I expected chaos for transportation, food and session handling, but this worked in the huge McCormick conference center.
Sure, not everything was perfect but overall the event was well organized. The worst scenarios were the keynote with about 15.000 seats filled and the meals. Well, you could avoid the long lines when going there early or late, so this was manageable.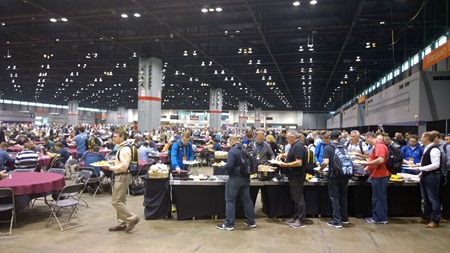 Some sessions were filled up quickly, so the staff members sent people to overflow rooms (which sometimes also were full) and some sessions have been repeated, Anyway, when speaking with attendees, they mostly complained about the food, but the sessions ratings were high and the overall impressions were good.
The keynote
Ignite started with one keynote (at BUILD there have been two keynotes) and CEO Satya Nadella, who (for me) surprisingly spoke relatively long, about 40 minutes about "empowering people". He also made some announcements like "Windows as a service", "the intelligent cloud" and some new features in Azure.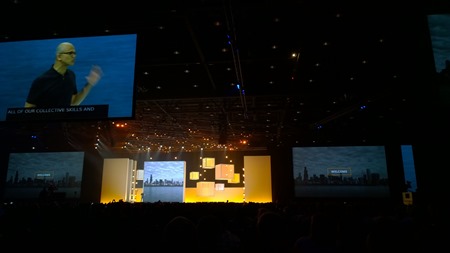 Later CTO Mark Russinovich said in his talk with Mark Minasi that Cloud is THE topic of the new Microsoft. There is no Plan B, they need to succeed with that. That's why Azure and Office365 are so important for Microsoft and why these are always the first (and main) topics at keynotes for Satya-which makes sense.
An important statement for me was, that Satya made clear that all coming product UI's will be working on all devices (responsive design). And they reach out for apps running on all platforms, see below.
Joe Belfiore demoed the "personal computing experience" and talked about security in Windows 10, starting with biometric login and showed some encrypted documents scenarios. Without the private keys encrypted documents (for example copied to an USB stick) are worthless. Digital Rights Management (DRM) will become a large topic in near future for most companies and Windows 10 and the Office365 services will support that well.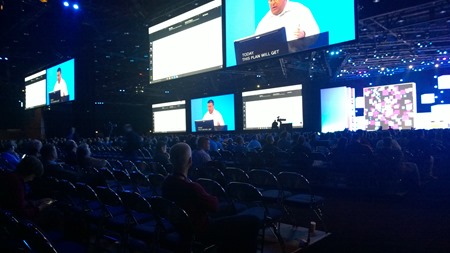 After about 2 hours we could see that people got uneasy and a lot of attendees left the keynote hall while Skype for Business and Office 2016 were shown and Julia White demoed the Surface Hub and Brian Anderson talked about security. Terry Myerson talked about the new Windows Update for Business with Distribution Rings, Maintenance windows and integration with existing tools.
For me Jeff Woolsey announced a big WOW-effect: With the Azure Stack parts of the Azure platform (IaaS and even PaaS) comes to private datacenters. Azure stack will be the successor of Azure Pack and deliver a bunch of features Microsoft wrote for their Azure services. One part of that will be the Operations Management Tool (OMS) which allows IT-Pros do manage Azure, Amazon and more cloud providers. Wow.
I estimate that about one fourth left the keynote after about 2 hours, so I would recommend Microsoft to shorten their next keynotes, even on conferences in that scale.
IT-Pro or Dev?
I thought that Ignite would be a pure IT-Pro conference, but we got the info that about 15% have been developers, which means about 4000 developers – almost the size of BUILD. With 1.069 speakers and about 1.200 sessions the content was impressive … and not possible to attend all sessions for a special topic or interest. I'm gad that all sessions are public available, so there's a chance to watch them online or to download them.
What does Open Source mean for Microsoft
Yes, Microsoft is going Open Source for a some (a lot) products and services. Looking back, we saw the first steps back in 2007 when Microsoft partnered with Novell (now SUSE) and created it's Interoperability Council in 2010 but it really started at the end and after Steve Ballmer's area. Last year the "holy" .NET framework was recreated.
The new .NET Core framework went Open Source along with the Roslyn compiler and a lot of tools on GitHub (that's were the cool developers are).
Imagine, .NET was created in 2000 and went public in 2002 – that's 15 years of .NET now. .NET Core is the basis for ASP.NET 5 and all Universal Apps – that's definitely a lot of work to develop a "better" .NET and to integrate the most important features into the new framework.
Besides, .NET Core runs on Windows, Linux and iOS, so that's how the new Universal Apps (and websites) are working. With .NET Core Microsoft threw away legacy code (like f.e. the support of Web forms) and delivers the .NET Core framework within each application (in the app directory), so side-loading of different versions is possible without installation of the framework necessary,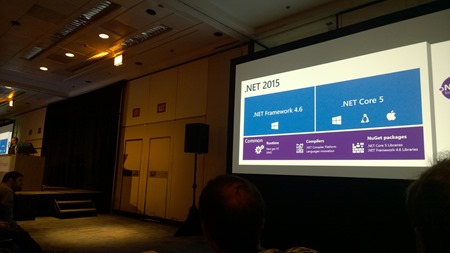 Anyway, developers now can decide to work with the existing .NET framework version 4.6 (which has support for everything in v4.5. and 4.5.1 like Web Forms, WPF and so on), or to use the .NET Core framework v5.
Along with .NET Core, Visual Studio tooling (the new product Visual Studio Code) and Docker are Open Source as well as hundreds of samples – all on the source code repository platform on GitHub.
Opening the tools and platform for developers is the new Microsoft. They know they need to reach out for Non-Microsoft developers to attract them and to reach a level of applications on all relevant platforms. Forget the "Windows is our platform" quotes we heard some years ago.. Now the goal is to empower users on all platforms and all devices, whether it's a Phone, Tablet, PC, iPad or whatever.
The Open Source community is still somehow suspicious of the new Microsoft but they will see this transformations continued in future. I personally like this direction very much and I'm sure Microsoft will open source more and more stuff over the next years, the are very open minded now and serious about their investments.
Around the conference
Along with the conference days there was a great offer of … everything. There were Hands-on-labs and workshops (mostly held by our MVP colleagues), the huge Expo-Hall, a Certification center, Microsoft Store and a large number of events.
The evening events went from small scale with invitation for special members and guests only to large events (like the Surface party). For example we have been to John Hancock tower in 96th level with an awesome view over Chicago on one evening. See a photo with SigiJ and magrom here.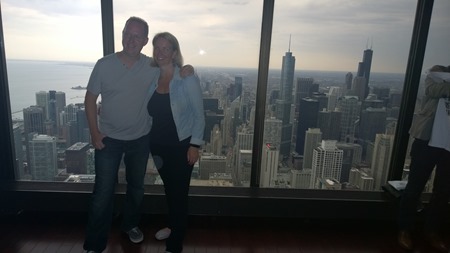 And the view at night to the south.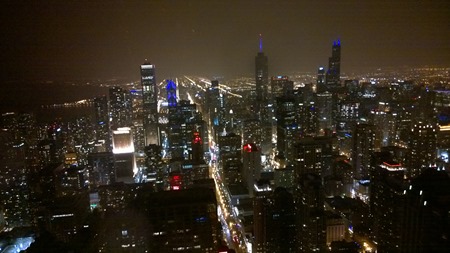 And there have been party's, party's, party's.

By the way, there was "May the 4th be with you" Star Wars day on Monday. Microsoft Ignite celebrated this with some cool gadgets and booth impressions (Julia White had even Darth Vader and a storm trooper in her Skype call keynote presentation).
And I discovered this nice comic at the Office 365 booth.

The big attendee party on Thursday was…huge in Hall B of the McCormick conference center. There have been live bands and a broad range of different games and amusements.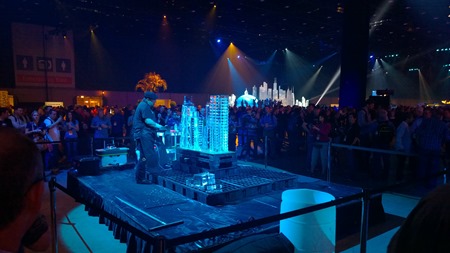 The halls were so huge, that pictures do not represent the size of this event. The good part was, we could also go outside on the terrace and down to Lake Michigan and relax there (without drinks, of course, USA like) – the weather was beautiful and warm.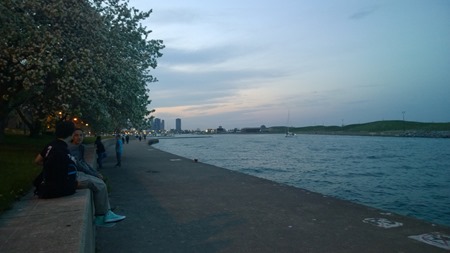 The offering was great – except for the food. It worked with the drinks, but there were some food booths with hundreds of people in line to get a very small bite of something. Not enough and not well organized after a full conference day, so we left the party early and had real dinner in downtown, which was awesome.
The Expo Hall
Wow, that was amazing. I think Ignite was a "must-be-there" event. All major players (Microsoft IT partners) have been there with a lot of raffles and give-aways. The Expo Hall was huge. Microsoft dominated with their big topics Office 365, Azure and Windows.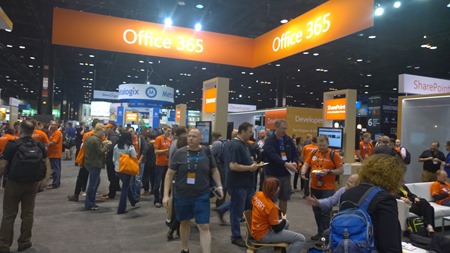 The booths had the experts there, even some keynote speakers like Jeff Woolsey have been there for Q&A as well as many speakers who were present there for some hours.
Unfortunately the Expo Hall was closed on the last conference day. This was the same at BUILD conference in 2014. There it seemed that a lot of attendees complained about this. So this year BUILD hat booths also on the last day. Maybe Microsoft will get the same complaints at Ignite too and that will change next year?
Sessions
As I mentioned above, the sessions were rated very well and the attendees I spoke with were happy about the session content and the presentations. Well, there have been world class speakers there, from the Microsoft product groups, partners and from the community – it was very hard to get a session there.
From atwork our CEO, Martina Grom, had two sessions about "Yammer Enterprise Administration" and "Yammer Identity and User Management" together with Sameer Sitaram, see here.
Martina also had a panel discussion "Experts Unplugged: Office 365 MVP Panel" with her fellow MVP colleagues J. Peter Bruzzese, Sean McNeill, Darell Webster, Jethro Seghers and Brett Hill at Ignite.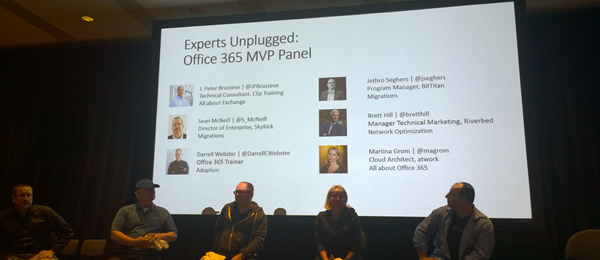 Darell moderated the discussion, thx for that! Also many thanks to our MVP colleagues Kerstin Rachfahl and Carsten Rachfahl for helping out with the question handling! I think we had a very nice discussion there. Interestingly most question were going in Exchange and Hybrid, there was not so much about SharePoint and Yammer, but it was a broad range of questions.
By the way, see Martina's sessions from Ignite 2015, TechEd Europe 2014 and Exchange Conference 2014 on channel9 here: http://channel9.msdn.com/Events/Speakers/martina-grom. I had the pleasure to be co-speaker at MIX-Exchange Conference 2014.
And well, of there was the famous Mark & Mark show (actually called Mark Russinovich and Mark Minasi on Cloud Computing) with more than 4200 seats – it was full! Imagine two people talking about the cloud and some insights in an entertaining way, people loved it.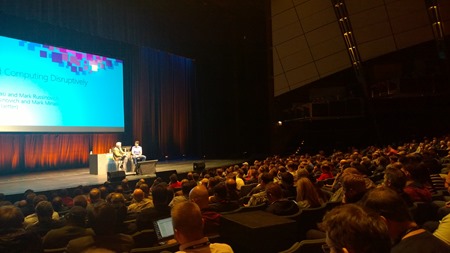 All sessions can be watched on http://channel9.msdn.com/Events/Ignite/2015!
Networking was awesome
For me having so many people at one single event was really impressive. I'm not a big fan of such large events but the good part of it was, that I met so many people from all over the world and of course the product group members there, so from a networking perspective it was awesome.
There even was a MVP booth, but you could meet most experts at the Microsoft booths directly and in the Labs and sessions as well.
All Microsoft MVP's who spoke or attended Ignite have been printed to a wall – a large number. See our photo with Samuel Zürcher, Toni Pohl and Nicki Borell here, pointing to their names.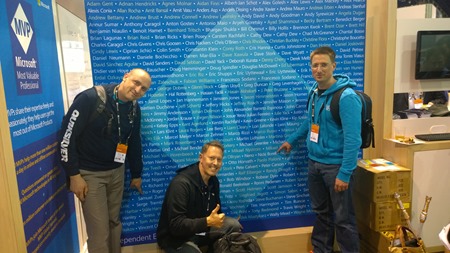 Although it have been four conference days for me, I didn't find enough time to meet all persons I wanted to see. But I met new people and had a great time there!
Hear our podcasts
We have been busy at the conferences and spoke with a lot of attendees and colleagues. We produced daily podcasts (in german) about BUILD and Ignite conference together with Michael Greth. We also interviewed some people to get their impressions about the conference.
Hear the Ignite podcasts here (or go here for our BUILD conference wrap-up and the podcasts):
Many thanks Michael Greth for producing and publishing our audio-impressions on ClubOffice365.de!
Summary
For me Ignite was awesome because I met so many (new) people there and could network with colleagues, partners and members of the Microsoft product groups and had a lot of fun.
A conference is always a mixture of getting informed on special topics as well as the whole program around it where networking is the most important part. We also enjoyed Chicago (downtown) which is very impressive and offers a lot of possibilities for sightseeing, cool restaurants and bars, sports along Lake Michigan and more. And we will need the next weeks for exploring the relevant content of this huge conference via Webcasts on channel9.
We hope we could deliver some of our impressions of Microsoft Ignite conference (see also feedback on Twitter with hashtag #MSIgnite or follow @MS_Ignite).
We hope to be at Ignite 2016 (9th to 13th May again in Chicago) as well!
Here's some info for following MSIgnite on social media:
Watch the sessions on channel9!
PS: We would be happy to hear your feedback about this conference(s)!
Categories: atwork, Azure, Cloud, English, Microsoft, MVP, Office, Office365, SharePoint, Social, Event, Windows, Yammer