This week the IT DevConnections conference takes place in fabolous Las Vegas. This is the second year where we from atwork were part of this great conference. Meeting experts and colleagues from all over the world makes this event exceptional – and, it´s in hot and sunny Las Vegas!
Since we´re very deep in cloud services, our two session informed about or Top-10 list of Office 365 features and PowerBI with SharePoint Online. Here are the links to the session descriptions and to the slides on Slideshare.net. Here you find all links to more resources from our sessions.
We hope you enjoyed our sessions – pls. rate the sessions and give us feedback!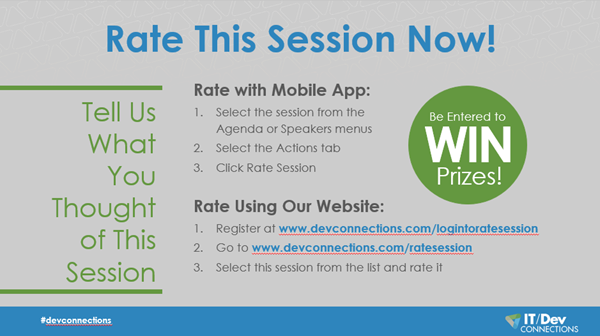 Also check out opinions and moods on Twitter #devconnections.
We wish all participants of IT DevConnections a great conference week!
…are you interested in Office365 management and delegation features?
Check out our cool product Delegate365!


Categories: Cloud, English, Event, Office365, PowerShell, Social, Microsoft, MVP, Yammer, atwork
Source: https://blog.atwork.at/post/IT-Dev-Connections-2014-Sessions