Sometimes support cases are opened because users cannot login to Delegate365 with their Office 365 account. In most cases, the browser cache automatically signs-in a user with wrong credentials. Please follow these simple steps to see how to achieve a successful login to the Delegate365 portal in such scenarios.
1. Use a browser in Private mode
The most common stumbling block is that web browser log in users automatically. Also, often users are working with multiple accounts. Thus, there is a high probability that an incorrect sign-in will occur when opening the Delegate365 portal.
To avoid such a behavior, open a new browser window in "private mode". Every modern browser supports that mode to ensure that you start with a "fresh" browser without automatic login. You can do so as follows.
In Microsoft Internet Explorer, press Ctrl + Shift + P, or open the menu "Safety" and "InPrivate Browsing".
It works similarly in other browsers. In case of any login issues, please use the private mode!
2. Check your Office 365 account
Just to mention… check your Office 365 account. Open a browser in private mode and login to https://portal.office.com and see, if the login works. If yes, the predefined Office 365 page will follow.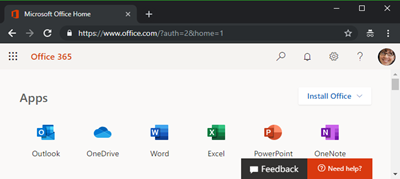 A valid Office 365 account is required to sign-in to Delegate365. If the login worked, you can open a new tab and open the Delegate365 URL.
3. Check the Delegate365 URL: https://<customer>.delegate365.com
Ensure that you have the correct Delegate365 URL, especially when using bookmarks! Type or paste the URL into the address field.

Usually, the portal URL looks as here: https://<company>.delegate365.com
Sometimes, wrong bookmarks are stored which results in an issue when signing-in. Avoid that by typing or verifying the Delegate365 URL.
4. Ensure you are using the correct Office 365 account
If you sign-in with an Office 365 account that is not allowed to open the Delegate365 portal…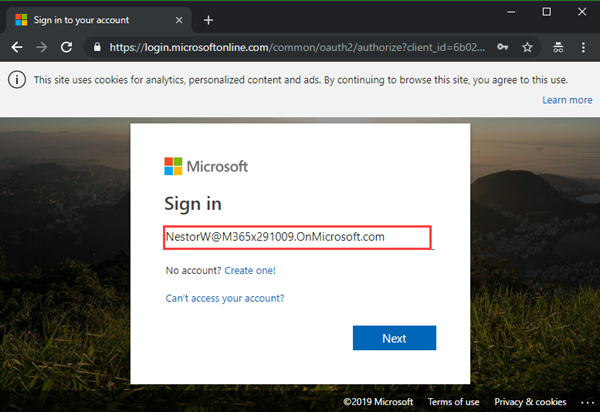 … you are automatically logged-out and this information follows: "You have successfully signed out."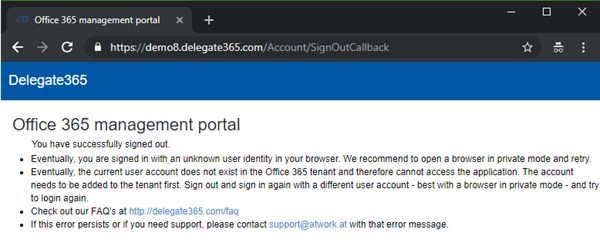 This occurs, when the sign-in process was successful - with a valid Office 365 username and password - but this account is not a valid Delegate365 app user.
In that case, start over with the correct user account. Click on the white Delegate365 link in the blue menu bar to retry (or close the browser and start over with step 1). Then, if the same behavior follows, please continue as here.
5. Ask your Delegate365 Admin to check your access
Basically, every user of Delegate365 must be added as Administrator to be able to use the Delegate365 portal. (There are some exceptions for specific URLs that can be used by normal users as SSPR.)
So, if your login still does not work, please contact your Delegate365 Portal Admin to check if your account has been added to the Administrators list in Delegate365. A Portal Admin needs to open the Administration / Administrators menu and see if the desired account is in that list and active:
In this sample, only two accounts have access to the Delegate365 portal and are set to Active equals yes:
admin@M365x036690.onmicrosoft.com and adelev@M365x036690.onmicrosoft.com .
Any other account cannot open the Delegate365 portal. So, if meganb@M365x036690.onmicrosoft.com signs-in successfully, she gets this message: "You do not have permission to view this directory or page."

This happens, because MeganB logged-in to the correct Office 365 tenant, but is not listed as Administrator in Delegate365 (see above).
Summary
Please follow the steps above if you encounter any issues with your login to the Delegate365 portal. Use a browser in private mode, check your Office 365 account and ask your Delegate365 Portal Admin to check your account in the list of the Delegate365 administrators. In most cases, any issue is a (browser) client topic that can be resolved as described.
If these requirements are fulfilled and your Office 365 account is valid, the login to the Delegate365 portal will work properly.
Categories: Delegate365, English, Microsoft, Microsoft365, Office365, atwork
Source: https://blog.atwork.at/post/Troubleshooting-Delegate365-Login