Microsoft geht es wieder einmal an: Das nächste Windows (Windows Server 8) wird ein neues Filesystem mitbringen: ReFS. Die Abkürzung steht für Resilient File System, also sinngemäß ein "elastisches, belastbares" Dateisystem, so schreibt das Windows engineering team in seinem Blog Post
Building the next generation file system for Windows: ReFS.
ReFS (Codename Protogon) basiert vollständig auf dem derzeitigen NTFS Filesystem und wird mit dem neuen Windows 8 Server eingeführt werden. Der Zugriff auf ReFS Daten von Clients aus wird genauso unterstützt werden wie NTFS-Zugriff..
NTFS-Funktionen wie "BitLocker encryption, access-control lists for security, USN journal, change notifications, symbolic links, junction points, mount points, reparse points, volume snapshots, file IDs, and oplocks" werden natürlich genauso unterstützt.
Wichtig für Developer: Die File APIs werden kompatibel sein.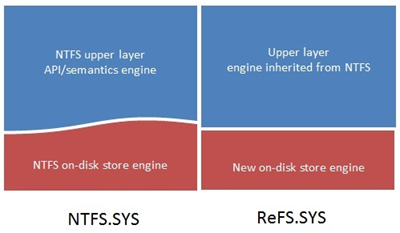 Die Verbesserungen in ReFS gehen von der Unterstützung von extrem großen Speichergrößen bis hin zu selbstkorrigierenden Daten und "Shared storage pools across machines for additional failure tolerance and load balancing".
Alle Details im Building Windows 8 Blog.
Wir dürfen also gespannt sein auf Windows Server 8!
Categories: General, Windows, Microsoft, Developer, Blog
Source: https://blog.atwork.at/post/2012/01/18/Windows-Server-8-Resilient-Filesystem-ReFS