Martina and I just returned from the Microsoft Community Open Day event in Munich. The name can be misleading for people outside of Microsoft, because COD is actually a closed event for members of the Microsoft community leaders in the MVP Program and the CLIP Program within a region.
Here community leaders and members can inform about news and do a lot of networking. In our case we both belong to the german speaking D-A-CH region (Germany, Austria, Switzerland). COD usually takes place somewhere in the corresponding region, last year in Berlin, this year in Munich, at the Microsoft Office. [Additionally there´s the yearly Global MVP summit for ALL MVP´s at the Microsoft headquarters in Redmond…]
The two-day event was a great opportunity to meet colleagues and friends from our region – and felt almost like a (very) big family meeting! Had a lot of fun and enjoyed our time there! Thanks to the organizers (@isa_fisch, @BirgitHuebsch and @SenorFlo – as well as @katko and @alead)!
I think it must have been about 100 community influencers at the COD15 event. #usergroups
On our way to the Microsoft Office in USCHL (see above – now with the new MSFT logo) we also passed the shell of the "new" Office building in Schwabing. They have a funny quote on a poster in front of the building saying "SchwaBING bekommt ein neues OFFICE mit vielen WINDOWS!"

And we had enough time to chat and to network in typical bavarian restaurants…
I also did a quick reporting of social media activity on Twitter – the hashtag is #COD15.
(Had a lot of fun with pictures and statements there too). So here´s some Twitter-data:
In the last two days there were almost 300 tweets by more than 100 users, with 73% retweets.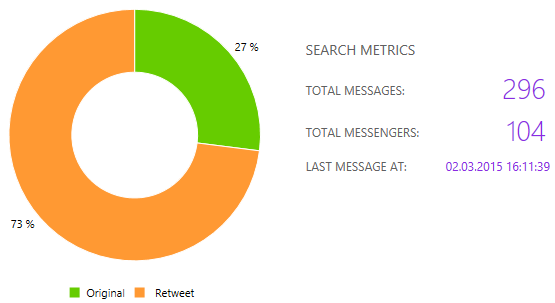 It´s not surprising that there were a lot of Windows Phones involved (54%), by 6% each of Android and iPhones, The remaining 33% of Tweets have been some other (PC) clients.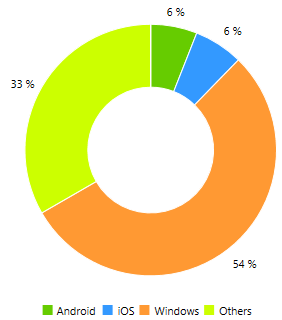 Oh, and I just saw that I (@atwork) had the most tweets with #COD15, followed by @levdaywalker, MVP EMEA lead @alead, @steinsdorfer, @magrom, @EBT_provides, @KostjaKlein, @msdev_de, @an_kl and @SigiJ.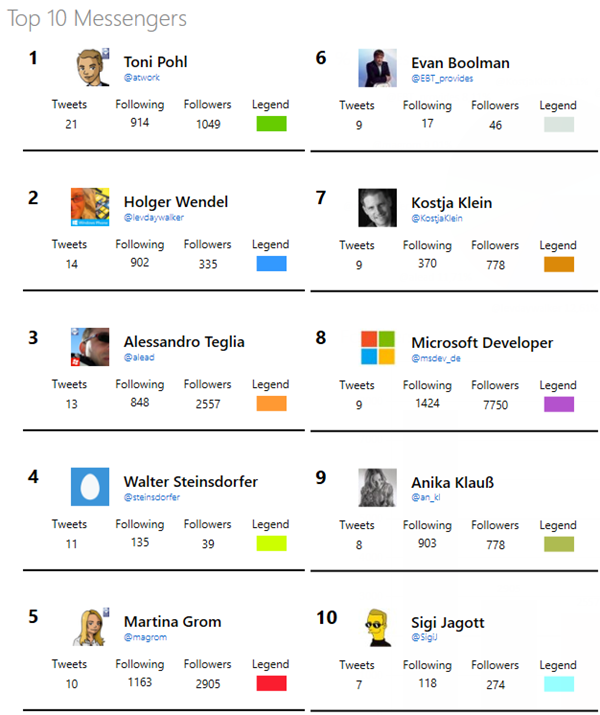 The number of followers reached is decent:
More than 15.000 Twitter users (just by the top 10 twitter users).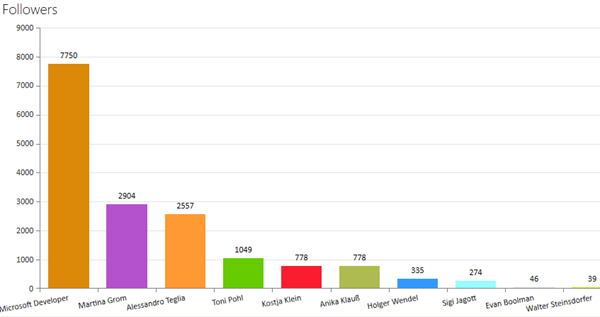 See also the Top Hashtags and the Top Mentions in the following screens:
#mvpbuzz, #windows10, #munich and so on. And the usual suspects (@HeikeRitter, @magrom, …) in the top mentions…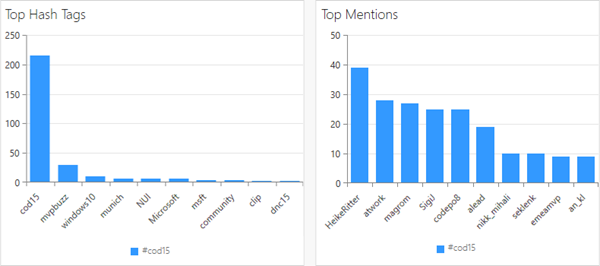 (BTW: We also made some reporting on the #COD14 event last year, if your are interested see here.)
So, we had a great time – thanks to all for making #COD15 such a great community event and looking forward to the next (community) events!
Categories: English, Event, Microsoft, MVP, atwork, Social
Source: https://blog.atwork.at/post/2015/03/07/Community-Open-Day-Munich-Hashtag-COD15