Join us at the legendary European Collaboration Summit from May 27 to May 29, 2019 in Wiesbaden, Germany! #collabsummit is Europe's largest community-driven conference with a focus on modern workplace technologies and digital transformation, with topics such as Microsoft 365, Azure, SharePoint, AWS, and Business Apps. The conference is organized for the community by the community.
We from atwork are honored to be part of CollabSummit.eu as in the past years (see 2018 and 2017). Check out the first announced sessions at Collabsummit 2019 program is here!!

Martina is part of the content team and she will deliver a session about "How Yammer Security and management works behind the scenes in a GDPR world".
I am proud to inform about how to "Develop intelligent apps for the Modern Workplace" at the conference.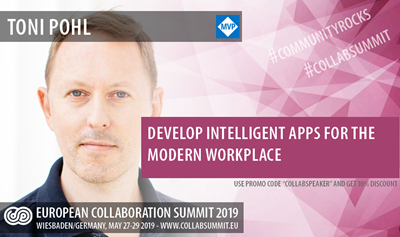 Our colleague Dominik will talk about "Password-less Authentication in ADFS 2019".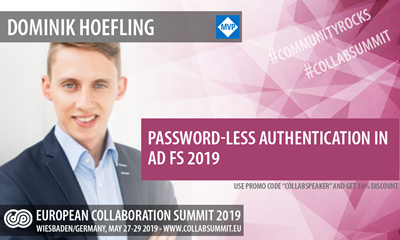 So, don't miss this conference with great content, international speakers from the community and a lot of networking!
Get your tickets at collabsummit.eu/tickets and use the following the promo code COLLABSPEAKER for a 10% discount!
#collabsummit will be a blast (again). Book now and we hope to see you there!
Categories: Azure, Blog, Cloud, Business Intelligence, Developer, English, Event, Microsoft, MVP, Office365, atwork
Source: https://blog.atwork.at/post/Ready-for-collabsummit-2019