When using Yammer, it's obvious, that uploaded pictures are shown with a reduced quality. Yammer does automatically scale and reduce pictures to make them more web compatible. But Yammer still has the source picture stored!
To illustrate this behavior with a sample, see (and enlarge) this picture. It's a screenshot taken from a Windows machine and the Registry Editor. The items do have poor quality and are not good readable and pixilated.
So, Yammer automatically reduces images in quality and size if you upload a picture.
Really?
Well I checked this and saw that image - which is stored in the "files" section of a group – is just rendered with low quality.
When opening the picture in the files list, there's a difference between the "Download" link and the picture shown .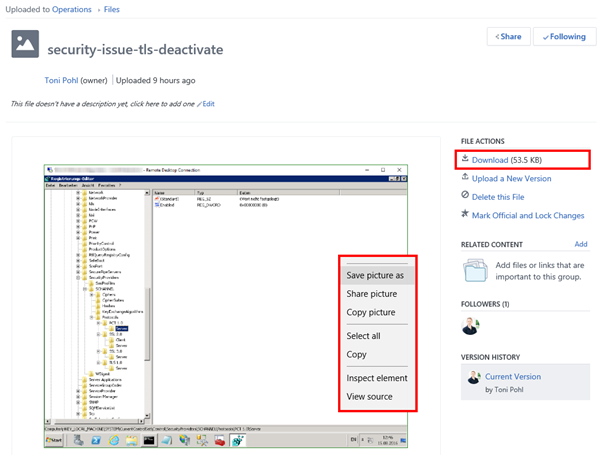 If you simply right click and "Save picture as" you get the "rendered" image. In my case:
security-issue-tls-deactivate.png - 51.3 KB
If you "Download" the image, you get the original picture – in the original quality and size.
security-issue-tls-deactivate (1).png - 53.5 KB
So from the perspective of file size in my sample, there's not a big saving with 51.3 KB compared to 53.5 KB, only 2 KB…
But, when checking both pictures, you can see the difference in quality easily (click to enlarge).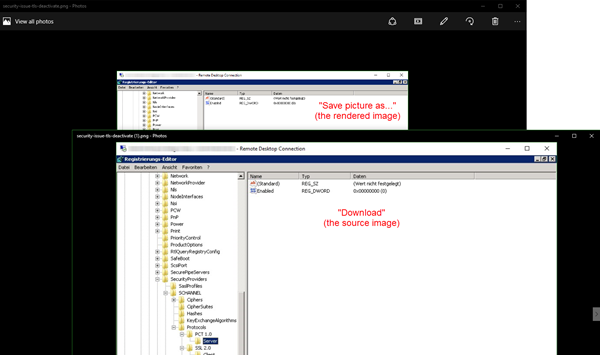 So, this realization is not a big deal. But for Yammer user's it's helpful to know…
that pictures are not resized in quality when uploading them, but…
Yammer automatically reduces the image quality when rendering the output (so that the size for transferring data to the client is reduced, even if it's maybe not worth it as in my sample)
The source picture stays unmodified in the Yammer files section.
Use the "Download" function to get any picture in full (uploaded) quality!
Happy Yammering!
Categories: Cloud, English, Microsoft, Office365, Yammer, Social
Source: https://blog.atwork.at/post/Yammer-and-the-picture-quality