This week unityConnect, the SharePoint and Office 365 conference, took place in Amsterdam. The speaker lineup was amazing and the content team did a great job. We asked Twitter about some numbers of this event. See it here!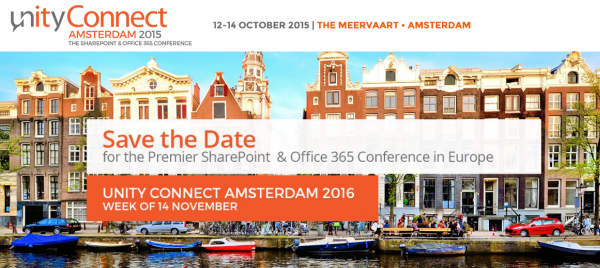 There have been around 400 attendees and a lot of well known experts at the three day event at "The Meervaat" near Amsterdam downtown.
unityConnect is considered to be one of the premier SharePoint and Office 365 technical training events in Europe and offered more than 50 sessions with great speakers from Microsoft and from the industry.
Also Martina had two sessions, one about Yammer Enterprise Administration and Who Needs Yammer? We Have SharePoint. We really enjoyed our two days at the conference.
We were interested in the impact in Social media. So, here we go with some numbers from Twitter.
The reporting was done on the last conference day, Wednesday, 14th October, at 11pm and pulled numbers from Twitter with the hashtag #uconnect for the last 7 days with plusonesocial.com tool.
In the last week there have been about 1.900 messages posted by more than 340 messengers.
About half of the messages have been retweeted.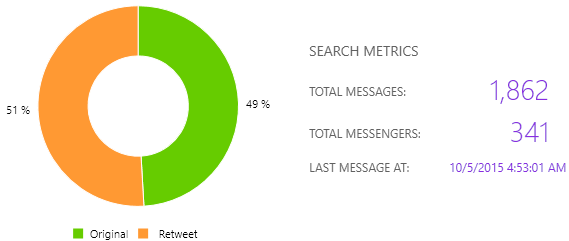 On daily basis, the first two conference days reached about 740 tweets per day, followed by about 110 today. In the week before the conference there have been around 50 tweets on average per day.
The top hashtags (besides #uconnect) were:
#sharepoint, #office365, #office365dev, #onedrive, #mavention, #spcaf, #yammer, #amsterdam and #o365.
Top-mentions were:
@danholme, @bniaulin, @ITUnity01, @jthake, @Office365, @SharePoint, @wictor, @laskewitz, @maarteneekels – well, this was no big surprise.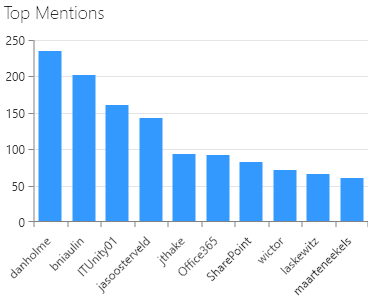 The Top 10 messengers by numbers (and with their followers numbers):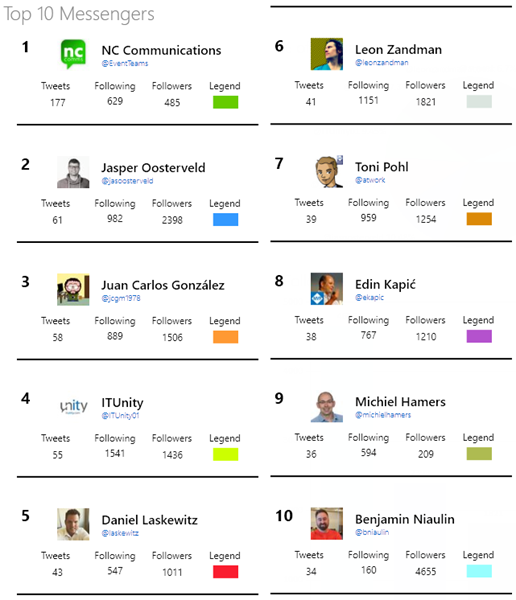 If we look just at the number of the followers of the top 10 messengers, they reached about 16.000 users.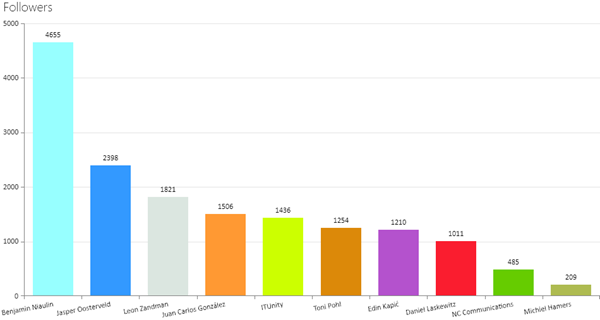 If we look at tweetreach.com, we see this result for #uconnect:
(This is the cost free report just for the last 100 tweets)
Anyway, the estimated reach of just the last 100 tweets have been more than 56.000 users!
Just hypothetically: If we multiply this 56.000 by 19 (~1.900 tweets), the estimated reach could be something more than a million users reached. This will not be the case since lot of users will be the same, but anyway, the reach of this event in Social Media is impressive.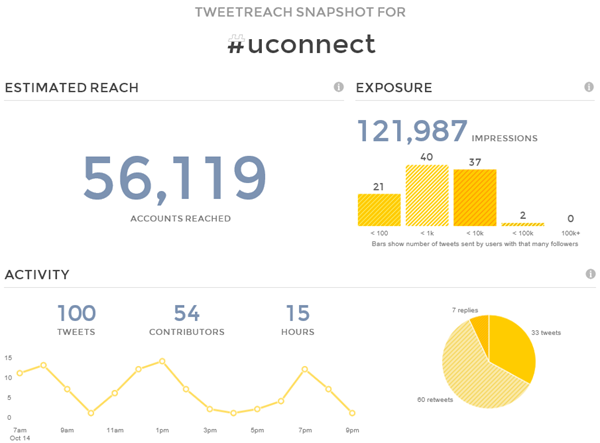 …and the contributors list is a little larger.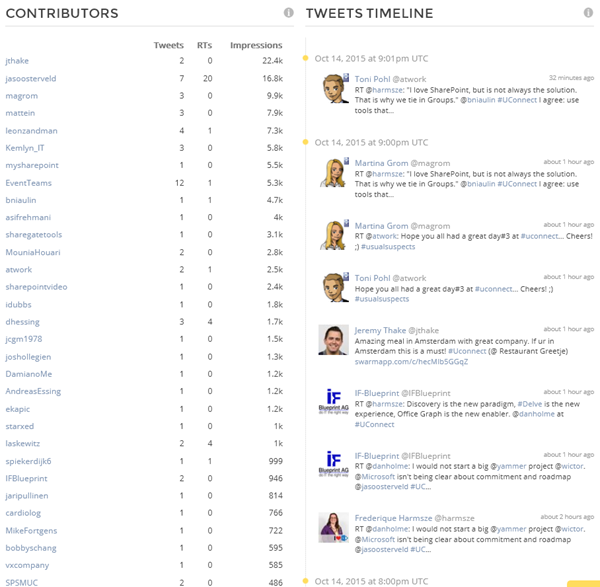 So, back to our report: The messages platforms used were mostly PC clients (55%), followed by mobile devices iOS (17%), Windows (16%) and Android (12%). You see this high number of Windows Phones usually only at Microsoft events…
Well, impressive numbers!
For us it was a great event with great speakers and a lot of fun.
Hope you also liked unityConnect and hope to CU there next time as well!
Categories: Cloud, English, Event, Microsoft, MVP, Office365, SharePoint, Yammer
Source: https://blog.atwork.at/post/This-was-UnityConnect-2015