Office 365 is moving fast – each week we find new and interesting stuff in the service. One of the long awaiting features is custom branding. This was first only exclusive to customers who use their own ADFS service and afterwards only to those customers who have an additional Azure AD subscription. Gladly this feature is now available also for Office 365 customers, together with the self-service password reset option for all users (not only Office 365 administrators).
Paul Andrew described the functionality already in the official announcement. However, maybe its currently in Roll-Out (which might take some time worldwide) or maybe they changed the functionality – I cannot find the described link ("Customize sign in page") in my Office 365 Tenant theming (under company profile).
So I thought about that it should be available through the traditional way (PowerShell) or through Azure AD services. And here we go! First, move to the Office 365 Administration portal. On the left you find all services – click on Azure AD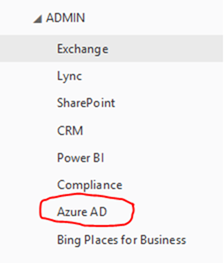 Now the initial Azure subscription process starts. No worries, there is no need to provide a credit card here. Just some patience till everything is ready. As soon as Azure provisioned the subscription you'll have access to the Azure Management: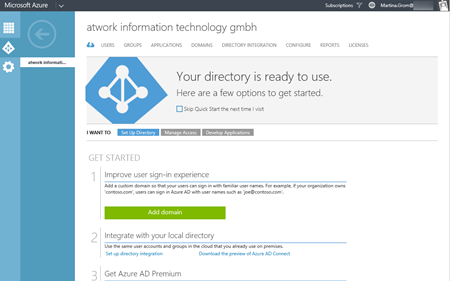 Now click on Configure and Customize Branding: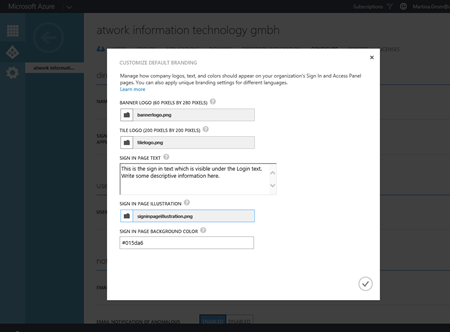 The following options are here (currently Tile Logo is not used):
Banner Logo (280x60 px): This Logo us displayed on the Sign In Page and the access panel. Make it a jpg or png and keep it under 4KB size. Use a transparent background.
Tile Logo (200x200 px): this is currently not used in the Sign In page.
Sign In Page Text: this text appears below the Sign in page form and can be used to communicate additional instructions, like help text. Up to 256 characters are possible, unfortunately no HTML.
Sign In Page Illustration (1200x1420 px): this replaces the Santa Monica Pier picture. Keep this picture as small as possible (remember large pictures influences loading time of your login page and may cause negative user feedback if too slow)
Sign In Page Background Color: this color (in Hexadecimal) is visible as long as no background image is shown.
As soon as the branding is done you can control what you've done by clicking to the custom login link:
https://login.microsoftonline.com/?whr=yourdomain.com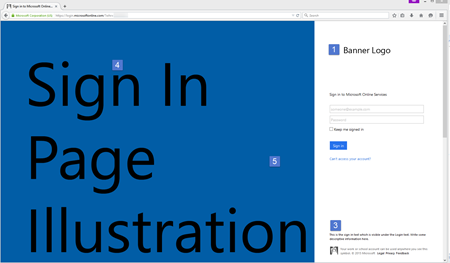 If you need custom branding per language simply click on configure branding again and select the language you want to change.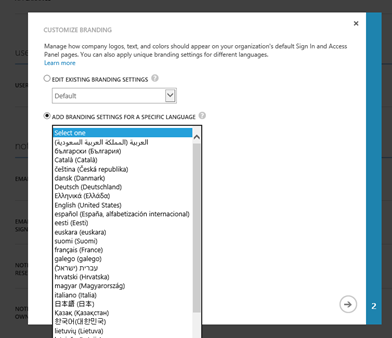 The same is valid when you want to remove the branding.
So, let's take a look at our Sign In Page: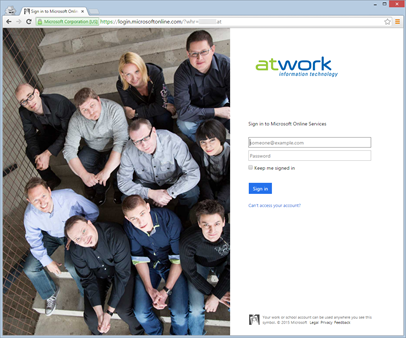 So, make the Office 365 Login Page yours!
Categories: Cloud, Office365, Microsoft, Azure, English
Source: https://blog.atwork.at/post/How-to-add-custom-branding-to-your-Office-365-login-page