Last week European SharePoint Conference 2014 took place in Barcelona. Time to recap mentions of the SharePoint event on Twitter (hashtag #ESPC14). Here are the results by 11th May, 21:30 made with Twitter Analytics for Excel (which @magrom also showed in her session PowerBI and SharePoint Online).
In this week there were more than 4.300 tweets sent, about 40% (1.700) of them were retweets. The top tweet-days were Wednesday followed by Tuesday and Thursday with average 1.200 tweets daily in these three days. (Click on the graphics to increase them.)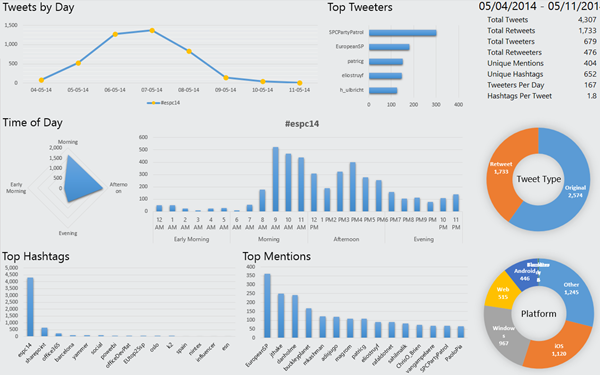 Top hashtags were #sharepoint, #office365, #barcelona, #yammer, #socialand and #powerbi.
Top mentioned were @EuropeanSP, @jthake, @danholme, @buckleyplanet, @mkashman, @adisjugo, @magrom, @patrickg, @eliostruyf, @rafaldotnet, @sahilmalik, @ChrisO_Brien…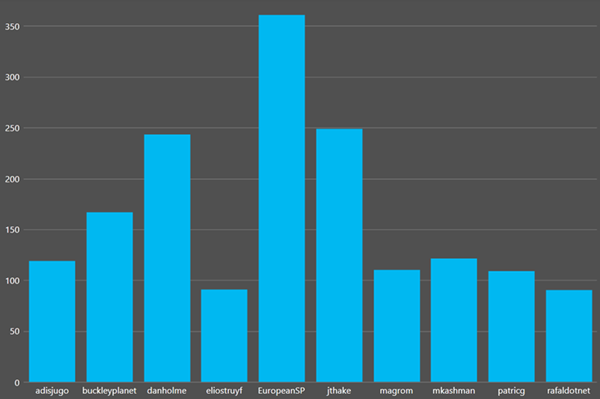 #espc14 was used by 679 Twitter users, see the top mentions and the users with the most followers in this graphics.
The user´s locations in Bing maps: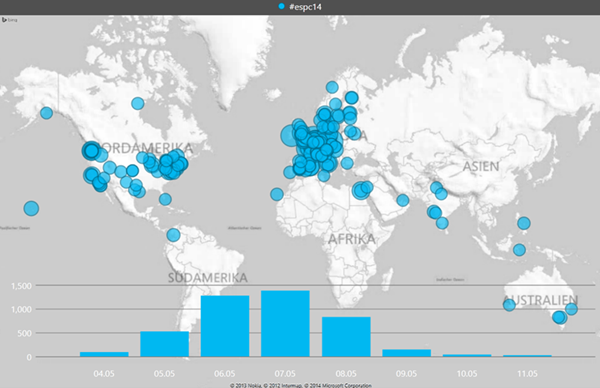 See also some tweets about #ESPC14 here:
See more tweets directly in Twitter #ESPC14. Find Martina´s session slides here.
We had a great time there meeting all you guys of the SharePoint community!
Looking forward to the next events!
Categories: Event, English, Microsoft, MVP, Office365, SharePoint, Yammer