Delegate365 allows to modify licenses in many ways, manually, automatically and with bulk-assignments. With version 8.3, the license policies will be considered for bulk assignments as well. See a description of that functionality here.
The Delegate365 permission and license policies control what modules and what licenses a scope administrator sees. An administrator can be assigned to one permission policy and to one license policy. While many organizations are using the Delegate365 sync rules, scope admins can manually assign entitled licenses and plans. The menu Licenses / Bulk assign licenses allows to accomplish such an operation for multiple users and takes the unauthorized licenses into account with this update.
Single user license assignments
A Scope Administrator, Adele, can manage her users and licenses. In this sample, there is a license policy in place for Adele, that allows to set specific licenses and plans while others are inactive and cannot be modified as in this screenshot. Licenses in the red box are inactive and the licenses above can be managed by Adele.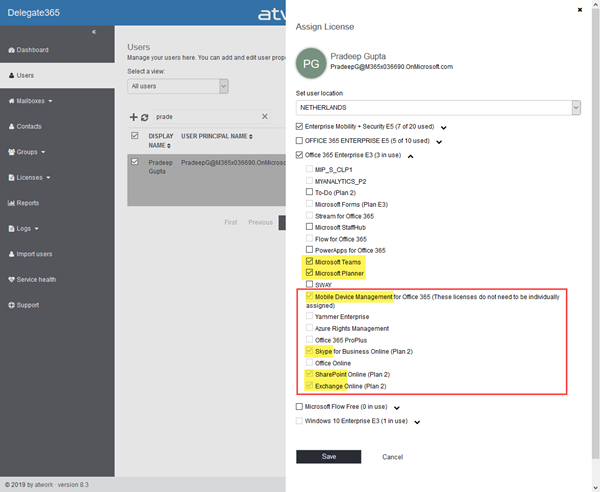 In here, Adele manages the licenses of user Pradeep. As we see, Pradeep already has a license of E3 and the plans Mobile Device Management, Skype, SharePoint and Exchange selected. Adele cannot modify these plans due to her assigned license policy. But, she can, for example, add the plans for Teams and Planner as shown above. So, the yellow highlighted plans are set within the E3 license.
Bulk assignments for multiple users
In module Licenses / Bulk assign licenses, administrators can un-assign and assign licenses for multiple users. First, the users can be filtered and selected in the user´s list.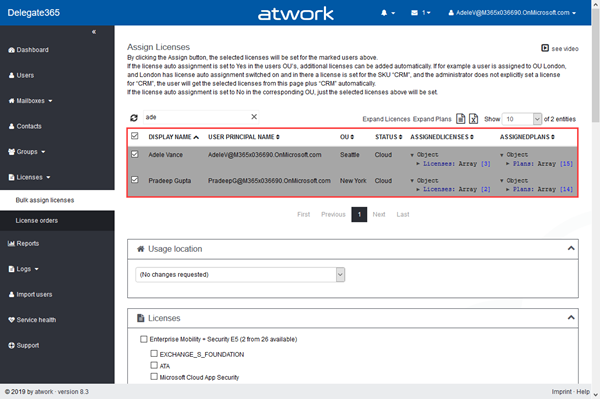 Note that all licenses and plans in the Licenses box are always unselected, since multiple users are affected and each user can have a different set of assigned licenses. In here, Adele selected two users. Remember that Pradeep had he following licenses selected: Enterprise Mobility + Security E5 and some plans of Office 365 Enterprise E3.
Now, Adele modifies some plans of E3 for Pradeep: Teams and Planner are deselected and To-Do is added. The green box shows the plans that can be modified, the red box shows the inactive plans.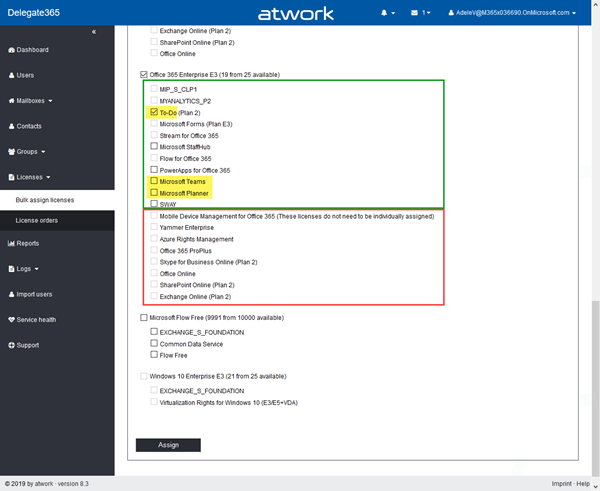 The Assign button at the page end executes this operation for all selected users. The action must be confirmed.

Important: Note that the Bulk assign licenses module REALLY SETS the defined licenses for the selected users. This means, that ALL UNCHECKED plans and licenses are REMOVED from the users and ONLY SELECTED licenses and plans are ASSIGNED. Please keep that in mind when using this function.
Check the result
So, in our sample Adele modified Pradeep´s licenses. Let´s see the result in the user´s list here.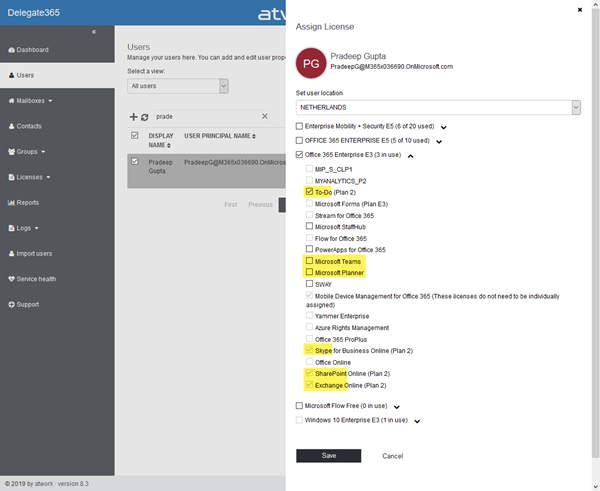 The plans that Adele is not allowed to edit are set (Mobile Device Management, Skype, SharePoint and Exchange – the plans that have been set by the Portal Admins are not changed). On the other side, the new To-Do license is set, and Teams and Planner plans are removed, since they were not selected in the bulk update. Also, the Enterprise Mobility + Security E5 license has been removed since it was not selected.
Use bulk assignments wisely
The Bulk assign licenses module fulfills the desired operation and removes unselected licenses and plans. So, please, be careful with that!
With this update, the Delegate365 Bulk assign licenses reduces the risk of removing unauthorized licenses or plans. We think, the new behavior makes sense and is helping scope admins with their bulk update of Office 365 licenses.
Categories: Delegate365, English, Microsoft, Office365, Microsoft365, atwork
Source: https://blog.atwork.at/post/Delegate365-changelog-version-83-Bulk-assign-licenses