Office 365 Groups provide a bunch of useful features for collaboration. In some cases, users want to send emails from an Office 365 group as sender. Here's the "HowTo" to accomplish "SendAs" permissions to an Office 365 group for users.
By default, users do not have any permissions to send from an Office 365 Group. So, if you try to send an email with such a sender address, you will get a reply similar as here.

The message subject says "Undeliverable: msg from a group" and the message text informs about the issue: "This message could not be sent. You do not have the permission to send the message on behalf of the specified user."
So, let's fix this. First, login as an Exchange (or Global) Administrator of the Office 365 tenant. Here's the PowerShell code for sign in (see Connect to Exchange Online PowerShell for more details).
$cred = Get-Credential
$session = New-PSSession -ConfigurationName Microsoft.Exchange `
-ConnectionUri https://outlook.office365.com/powershell-liveid/ `
-Credential $cred -Authentication Basic -AllowRedirection
Import-PSSession $session
(Use https://outlook.office.de/powershell-liveid/ for connecting to Office 365 Germany.)
Okay, now we can check the Office 365 groups in that tenant:
Get-UnifiedGroup
…or all details of a specific Group by Name, in my case of the "support" Group:
Get-UnifiedGroup -Identity support | fl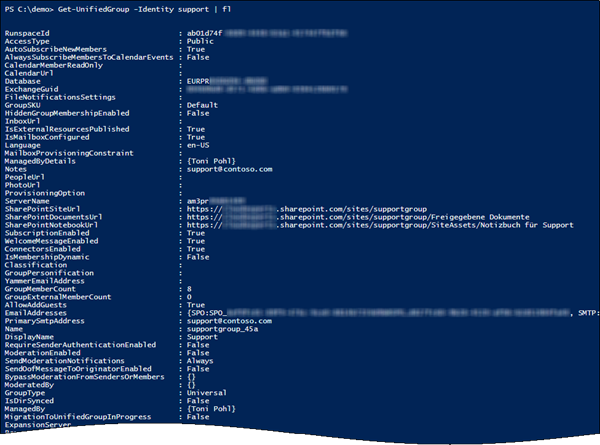 The next steps are easy going: Add the users who shall be entitled of sending from the "support" Group:
Add-RecipientPermission support@contoso.com -AccessRights SendAs -Trustee mg@contoso.com
Add-RecipientPermission support@contoso.com -AccessRights SendAs -Trustee tp@contoso.com
A confirmation is needed (if you don't provide that as parameter):

That's it. Now it's time to retry… another email is sent FROM the "support@contoso.com" Group: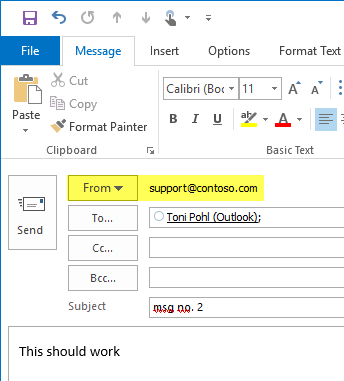 If it works, you should get the email from "support@contoso.com".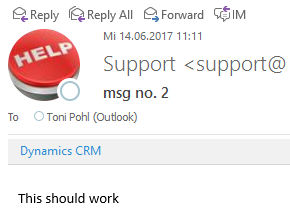 Office 365 Groups offer many benefits – use them!
Categories: Cloud, English, Microsoft, Office, Office365, PowerShell, SharePoint, Exchange
Source: https://blog.atwork.at/post/Adding-Send-as-permissions-for-an-Office-365-Group