Since the beginning, Delegate365 developed to an extensive cloud solution for Microsoft Office 365. This article delivers a short overview about the components of Delegate365 in the Microsoft Cloud.
The following graphics shows the involved Azure services that are used in D365.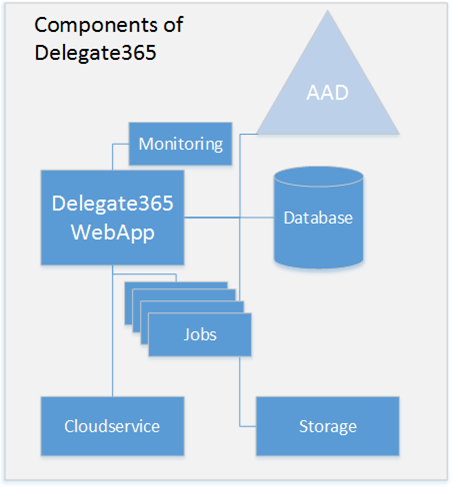 Delegate365 is using Platform-as-a-Service components that are maintenance-free. In detail, Delegate365 consists of the following Azure services.
Web App – this hosts the Delegeate365 portal website.
Jobs – these are tasks that run automatically in the background, currently these are the Synchronization Job, the License Aggregator Job, the Log Sink Job and the Sync Notifications.
Cloud Service – handles operations against AAD and Exchange Online.
Database – is used for caching objects to deliver a good user experience and for storing OU assignments.
Storage – Audit Logs are stored in Azure Table Storage. In former versions the logs were stored as log files. With version 6 this has been changed to Azure Table Storage. This storage can be accessed directly if needed, for example for further use of the logs with Excel or Power BI.
Monitoring – anonymized usage data is sent to a central App data pool to get metrics about the usage of pages and functions and monitoring.
AAD – this is your Office365 tenant which is bound to the D365 tenant.
When provisioned, every customer gets his own environment which looks as described above. The provisioning process is done with a management tool called "D365 Worker". This tool runs completely in Azure as well and takes care about automated provisioning of all necessary components and the upgrade process.
Since Delegate365 is provided as Software-as-a-Service, there is no need for customers to install any software or to take care about update process. See the latest Delegate365 features here.
Happy Delegate-ing!
Categories: Azure, Cloud, Delegate365, English, Microsoft, Office365, atwork
Source: https://blog.atwork.at/post/Components-of-Delegate365