Just discovered the "Community Leaders page compiled by Communauté aOS" on docs.com with interviews with active members of the Microsoft communities!
Martina and I are honored to be part of these communities with such great guys! The following picture shows Nuno Árias Silva, Hans Brender, Elio Struyf, Francesco Sodano, Jeff Teper (Microsoft Corporate Vice President OneDrive and SharePoint), Rodrigo Pinto and (the profile of) Paolo Pialorsi (and me). This photo was taken at SharePoint Saturday Paris in May 2016 and there were a lot of great speakers at that community event (see also our impressions here).
So here's the website on docs.com: Community Leaders compiled by Communauté aOS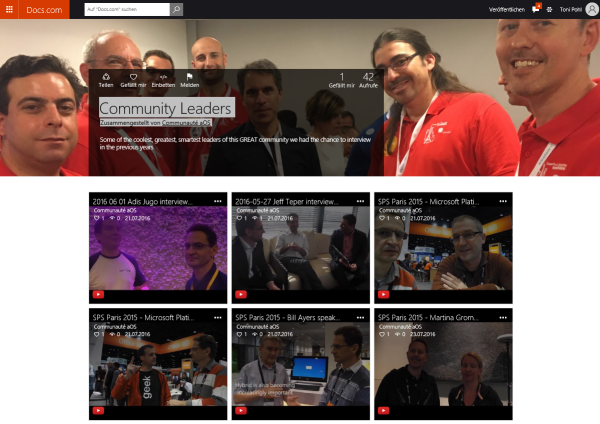 See the interviews here… there are even well known Microsofties participating as Jeff Teper, Mark Kashman and Christophe Fiessinger.
We are represented in that compilation with a short interview at Ignite 2015 as well.
Thanks Patrick Guimonet, Gokan Ozcifci and the team of aOS community for being that active and integrating us in your community!
Categories: General, Blog, English, Event, Microsoft, MVP, atwork, Social
Source: https://blog.atwork.at/post/Community-Leaders-compiled-by-Communaute-aOS