We did it again.. attending this year's Microsoft BUILD conference in Seattle. See some of our impressions here!
This year, Microsoft BUILD conference took place from May 10th to 12th near Microsoft's home in Seattle.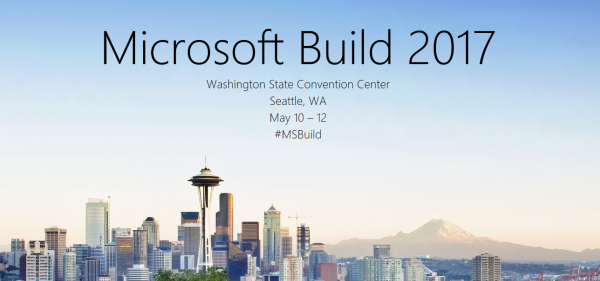 In total, this was the 7th BUILD conference. After the Professional Developer's Conference (PDC) in the past and a break, the first BUILD started in September 2011 in Los Angeles, Anaheim, where Windows 8 was announced. The second BUILD end of October 2012 was interesting since it happened directly in Redmond at the Microsoft Campus with a big tent for the keynote (near the Conference Building 31) and Steve Ballmer himself presenting Windows 8 and Windows Phone 8. From then on (2013 to 2016), BUILD had it's location in San Francisco at the Moscone Center. I still remember what an expensive location Silicone Valley and SanFran was. In 2013, Windows 8.1 was announced. In 2014, Universal Apps and the Lumia phone got most attention (can you remember, there was a time when Microsoft wanted to participate in the mobile device market with hardware and software…). In 2015, "Cloud First" – Azure (which was renamed from Windows Azure to Microsoft Azure in 2014 already) - took the stage, followed by Windows 10 that came in that summer. In 2016, it was time for the Cortana, Bots, Cognitive Services, Xamarin, and the Windows Windows 10 Anniversary Update. The Mixed Reality project "HoloLens" was announced in January 2016 at the virtual "Windows 10: The Next Chapter" event completely unexpected (although the Kinect project lead into that).
This year, the Washington Conference Center hosted the BUILD 2017 conference. For me, there were no really big surprises, but a bunch of interesting announcements, news and technologies. Redstone 3 will be Windows Fall Creators Update, I heard a lot of Azure news as MySQL and PostgresSQL as a Service, CosmosDB, Azure Functions and LogicApps ("serverless"), Azure Stack, Cognitive Services, Tooling news, some Office news (see the following blog post about Vitual SharePoint Summit), and of course, mixed reality and much more.
Martina and I attended all BUILD conferences except the first one in SFO in 2013. See some of my impressions of previous BUILD conferences here.
BUILD is just a 2.5 days conference, but it delivers the (current) Microsoft vision and allows to interact directly with the Product Groups in a very relaxed way. So for that perspective, it was a good decision to relocate the conference to Seattle area, where we had almost all members of the PG's at the conference and at the hub. I did not attend all sessions I planned, but I had a lot of meetings, fun and events around the conference.
Thankfully, all sessions are available online at https://channel9.msdn.com/Events/Build/2017. Attendees simply don't have the chance to attend all sessions they are interested in. Anyway, at least for me, networking is the most important part of attending a conference (having no stress when not being speaker) and this worked totally fine at BUILD.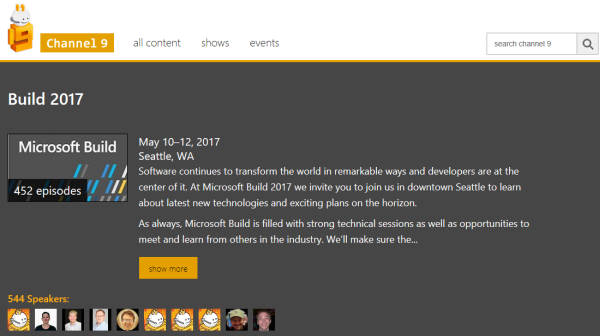 I still need to collect my favorite topics and to see the sessions online or download them. Our colleague Vlad Catrinescu published a PowerShell script for downloading the content at techcommunity.microsoft.com (or directly here).
So, see some visual impressions of the event here.
The week started with (for me unusual) beautiful weather, meeting friends and a great day trip to Whidebey Island and meetings colleagues. Many attendees joined a conference Pre-Day on Tuesday and evening events which was great, right before the conference.
As in the years before, the keynote was for early risers and the waiting queue was looong. I and my colleagues were lucky and got access to the preferred seating area where a much much smaller group was allowed to enter the auditorium earlier and near the stage.

Funnily enough, after 2 hours I discovered one of the speakers screen right above my head and on the other side of the stage. So I could read some of the scripts, but Cortana Services did a great job to subtitle what the presenters said – in every session, this was impressive how well that worked. And, well, we were active on twitter #MSBuild together with thousands other attendees who watched the show in the room and world wide. Day Two was more the Windows consumer and Virtual and Mixed Reality keynote.

And finally, the weather got more Seattle like and the the conference went on…
I enjoyed the conference and the many events around BUILD. We of atwork will dive into the new technologies and topics in the next weeks and months and we will continue to plan and deliver solutions around Microsoft's cloud services. Stay tuned!
Watch the sessions you are interested in online at channel9-Build/2017!
Categories: General, Blog, Cloud, Developer, English, Event, Microsoft, MVP, Office365, Windows, Visual Studio
Source: https://blog.atwork.at/post/Impressions-of-BUILD-2017