This week, we have been at Microsoft Tech Summit Johannesburg, South Africa. The event took place in Sandton Convention Center from 6th to 7th February 2017 and hosted over 50 technical sessions with a range of topics as Microsoft Azure, hybrid platforms, DevOps, app platform, productivity, collaboration and more.

Microsoft Tech Summit is a cost free, two-day technical event touring through a bunch of cities worldwide, delivering a free technical training on the latest Microsoft technologies. See an overview and the stations here.
For Martina and me this was our first time in South Africa and we enjoyed it very much to be part of the event in Sandton/Johannesburg. The Sandton Convention Center is directly connected with the noble Intercontinental Hotel and the Sandton City (Sandton Mall) and the Nelson Mandela Square which makes this location very convenient.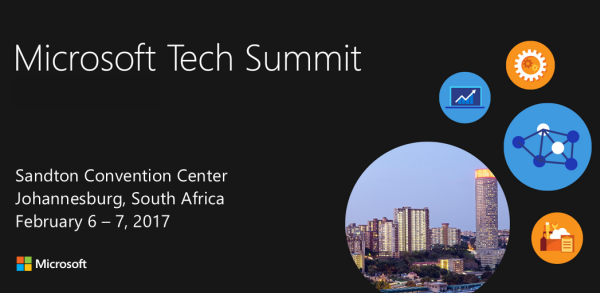 Scott Hanselman delivered the keynote and further sessions. The keynote was packed and I and a bunch of attendees were sitting on the floor (which was actually convenient) to enjoy the keynote. I heard there were about 1.800 attendees at the event. As we saw, the event attracted people from all over Africa. See some snapshots here.


Thanks Steve Nguyen for the last snapshot at the cool Moyo/Melrose Arch restaurant!
The Twitter hashtag is #MSTechSummit (and #joburg). See some tweets here (and click on the image to follow the author).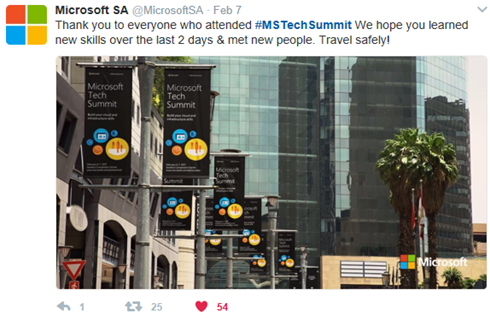 Our sessions were:
Office 365 Groups – Overview & Administration, Martina Grom
Intelligence throughout Office 365: Delve, MyAnalytics, and Microsoft Graph-powered experiences, Martina Grom
Dive into the power of the Microsoft Graph API, Toni Pohl
After Joburg this week, February 6-7, MS Tech Summit took place in Frankfurt, February 9-10.
Martina will also be speaking at Microsoft Tech Summit in Milan, March 20-21, and in Copenhagen, March 30-31.
If you have the chance, attend the cost-free two-day workshops of Microsoft Tech Summit!
Categories: General, Azure, Cloud, Developer, English, Event, Microsoft, MVP, Office365, Security, atwork, Social
Source: https://blog.atwork.at/post/Impressions-of-Microsoft-Tech-Summit-Johannesburg