PowerApps are a great way to develop low-code apps for various platforms. With the big success of PowerApps and Flow, the number one request of many customers was: How can people outside my company use PowerApps? Well, soon there will be a way with PowerApps Portals!
So far, using a PowerApp requires a login in the organization´s tenant. In real scenarios, there are of course many use cases in which the provision of a PowerApp for customers, partners, suppliers, etc. makes sense. So, there´s a huge demand for sharing PowerApps with external users.
As Charles Lamanna, General Manager of PowerApps at Microsoft, writes in the PowerApps blog, there will be a new way to distribute an app with PowerApps Portals: "Today we're excited to announce PowerApps Portals, the ability to build low-code, responsive websites which allow external users to interact with the data stored in the Common Data Service."
See the article at Introducing PowerApps Portals: powerful low-code websites for external users with the following demo screenshot.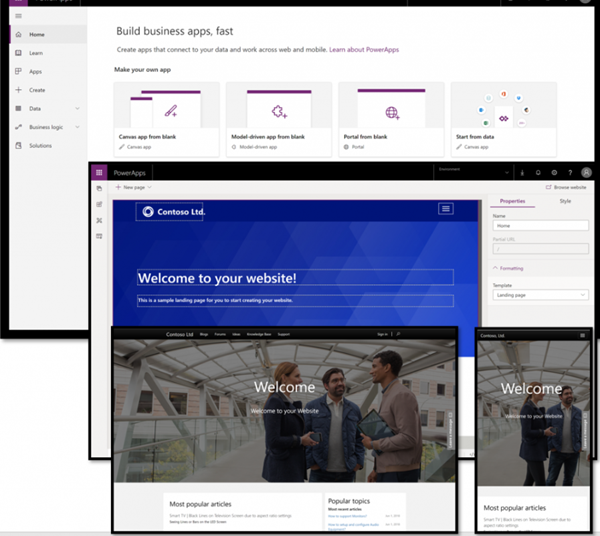 "Starting in next month, you'll be able to create a new App type called "Portal" directly from PowerApps. Using a simple, dedicated designer experience, makers can create pixel-perfect websites which are custom branded and allow users to interact with data stored in the Common Data Service."
The article informs that PowerApps Portals will be available as a Public Preview in July. Interested parties can already subscribe to be informed about the Public Preview availability (currently the list of the countries does not include all countries…).
So, we are looking forward to see PowerApps Portals and the new capabilities in the next months!
Categories: App, Blog, Cloud, English, Microsoft, Microsoft365, PowerApps, Office365